The program forms a comprehensive study of the art of photography including its processes and technology, history, criticism, contemporary practices, and the expressive potential of its unique visual language. Students are supported in their work by the facilities and studio space of School of Art. Housed in the main art building, the Photography area occupies over 7,000 square feet and spans two floors. Learn more about the facilities and the studio spaces at the School of Art. 
Undergraduate Photography
The small size of the Photography program, with just fifteen students per class, creates a close-knit community. It fosters a supportive environment for experimental work derived from a student'­s goals and personal inspiration. Each course provides not only the technical tools of the photographic medium but also the conceptual discussions and applications to put those tools into use. One-on-one attention is present at all levels to support students in their development as working artists. Students interested in pursuing a Bachelor of Fine Arts (BFA) degree in the area of Photography must first submit work through the portfolio review process. Learn more about the School's portfolio review process by which undergraduate students apply to their area of emphasis here, and find more information about BFA course requirements at the Lamar Dodd School of Art here.
Graduate Photography
The Master of Fine Art (MFA) degree program in Photography at the School of Art pushes the boundaries of graduate education in contemporary image making. At the center of the program is a curiosity about the place of images in contemporary culture. Students work in many formats, including photography, video, sound and installation art. The small size of the program, with seven to nine graduate students, creates a supportive atmosphere. Diverse and accomplished faculty provides a wide range of views and approaches throughout the course of study. Each faculty member pursues creative, personal research and exhibitions along with their teaching. Core faculty is supplemented by recognized visiting professors. For more information about graduate programs at the Lamar Dodd School of Art, contact our Graduate Office.
To see a list of recently completed MFA theses, click here.
---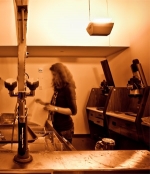 Our space in the main building of the School of Art consists of a central hallway that serves as an exhibition space for recent work from our classes. On the second floor are several workspaces including an introductory/intermediate lab and classroom, a digital photography classroom,  advanced lab and classroom, equipment supply room and the graduate research studio. On the third floor is the print finishing room and lighting studio. Each space has been designed in an open workflow utilizing a great deal of natural light, with attention to safety and ventilation throughout.                  
The School's Audio/Visual Equipment Checkout houses all of the equipment available students studying in photography. This includes medium and large format cameras and accessories, tripods, lighting equipment – strobes and hot lights, digital video cameras, digital video projectors, and digital cameras including a 32 mega-pixel digital back on a medium format camera.
The photography lighting studio is a versatile space with a full wall of north facing windows for natural studio lighting, as well as a full array of strobes and hot lights for studio photography work. Adjacent to this space is the print finishing room that includes matting and framing supplies as well as a copy stand and camera.
Find more information here about School facilities and studio spaces. 
---
Portfolio Submission
The application portfolio is made up of 12–15 prints of recent photographic work. This portfolio typically comes directly from work from the ARST 2210, Intro to Photo Culture course, with an emphasis on the most recent work. Your instructor will help you prepare this portfolio. Additionally, your grade point average, performance in other art classes, and recommendations from your photography course professor will be considered.
Student Profile
An individual who is serious about looking at the world and making art in the context of photography. One who is self-challenging and intellectually motivated. Must demonstrate creativity and high visual acuity in picture-making. Must be willing to learn and apply aesthetic concepts that are inherently related to the techniques and processes of the photographic medium. Must be resourceful, welcome experimentation and be able to work independently. An ability to articulate ideas clearly and express oneself confidently is expected.
Employment
Photography majors will be well prepared to continue their work out of school or to attend graduate school where the required MFA degree for college-level teaching can be earned. The intensive technical training of the photography major, critical dialogue, internship program and the senior exhibition and portfolio all contribute to preparing the BFA graduate for professional work in today's multi-faceted field of photography.