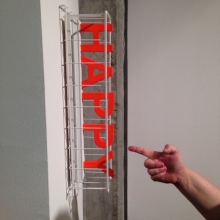 Position:
Associate Professsor
Area Chair for Photography & Graphic Design
Location:
S270F, Lamar Dodd School of Art
Marni Shindelman's collaborative practice with Nate Larson investigates the data tracks we amass through networked communication. Her work ties the invisible to actual sites, anchoring the ephemeral in photographs and immersive video installations. 
Her collaborative work has been in exhibitions at Crystal Bridges Museum, solo exhibitions Blue Sky in Portland, the Orlando Museum of Art, United Photo Industries in Brooklyn, the Contemporary Arts Center Las Vegas. Light Factory in Charlotte, the FotoFestiwal in Poland, the Houston Center for Photography, Baltimore Museum of Art, the Moscow International Biennale in Russia,and Conflux Festival in NYC. She has been a resident at the Robert Rauschenberg Foundation and Light Work in Syracuse, NY.
Her work has been featured in Wired Magazine, GUP Magazine, The Picture Show from NPR, The Dish, PetaPixel, Fast Company, Gizmodo, Hyperallergic, the New York Times, Hostshoe Magazine, the Washington Post, Utne Reader, Flavorwire, Frieze Magazine, the British Journal of Photography, the BBC News Viewfinder, and on the radio program Marketplace Tech Report.
Marni Shindelman  received her MFA from the University of Florida and a Bachelor of Philosophy in Interdisciplinary Studies from Miami University (Oxford, OH). 
Research Detail:
Research areas: Contemporary Photographic Practices, Internet culture and its influence on human interaction, and Modernity, Boredom, and Trauma