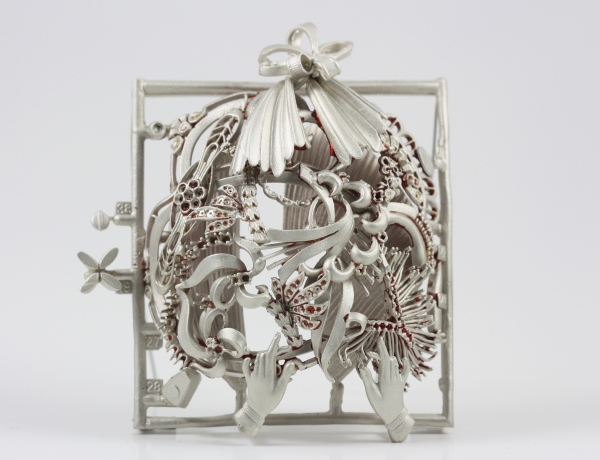 MARY HALLAM PEARSE, CHROMEO, BROOCH, 2016. SILVER AND ALUMINUM
The Dodd's Jewelry & Metalwork area kicked off the fall term in style on September 8: coincidentally, this was the date that two exhibitions featuring jewelry by both of the department's two professors opened to the public. Demi Thomloudis and Mary Hallam Pearse are currently exhibiting new work in group shows on both coasts of the United States. Thomloudis collaborated with another artist to create site-specific small objects and jewelry in a show in San Francisco, while Pearse is participating with other female American jewelers in a group exhibition in New York City.
"Demitra Thomloudis and Motoko Furuhashi: CrossPass" features collaborative and individual works by the two artists at Velvet Da Vinci Gallery in San Francisco. The artists chose to respond to a distinctive stretch of highway for this body of work. Interstate 10 connects the border region of El Paso, Texas to Las Cruces, New Mexico. Using materials such as sand, cement, and steel, the artists reflect the desert landscape and the man-made environment that has developed on top of it through their work. Thomloudis, who joined the Jewelry and Metalwork department this fall, is interested in creating work that relates to architecture and the environment, and, by extension, how wearing such an object could connect a person to the larger world. Read more about Thomloudis's exhibition at Velvet DiVinci Gallery, up through October 9, here.
Pearse and 32 other female American jewelers were invited to create a new work for the exhibition "Shadow Themes" to display alongside an older work that it relates to, allowing the viewer to trace the evolution of ideas in their work. In that way, the exhibition at Reinstein/Ross gallery in New York City examines the link between present and past. Chromeo, pictured above, is a silver and aluminum brooch that Pearse created for the exhibition. It features a pair of hands below intricate swirls and loops of silver aluminum highlighted in red within an open square frame. The artist is interested in the historical and cultural function of jewelry and in the relationship between representation, consumption, and desire. Read more about Pearse's exhibition at Reinstain/Ross Gallery, up through October 16, here.