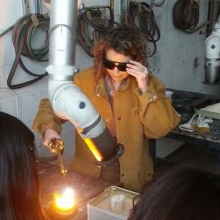 Position:
Associate Professor of Art
Area Chair for Jewelry and Metals
Location:
Room 213, South Thomas Street Art Complex
Mary Hallam Pearse received her M.F.A in Metal from SUNY New Paltz and a B.F.A in Jewelry+Metals from Kent State University. Recent and upcoming exhibitions include Wordsmith/Metalsmith: Text in Contemporary Jewelry at Rhode Island College in Providence, Rhode Island and Sieraad: International Contemporary Jewellery Fair in Amsterdam. Mary has taught workshops at Anderson Ranch, 92nd Street Y, Kent State University, Humboldt State, East Carolina University and University of Wisconsin Milwaukee. Pearse serves as the Area Chair of Jewelry+Metals. Her work is represented by J. Cotter gallery in Vail and Beaver Creek Colorado.
Research Detail:
I examine forms, uses, and meanings of the objects in an effort to build bridges between studio craft, technology, design and art.  I seek also to critique material culture, simultaneously blurring boundaries between jewelry, art and design. I am interested in how jewelry has functioned historically as a marker of status, class wealth, and a record of human experience. The objective of my work is to increase the depth and breadth of the critical dialogue concerning objects and how they participate in culture, particularly through the use of unconventional forms, mass production techniques and seduction.
Research Areas
Jewelry, Desire, Seduction, Adornment, Ornamentation, Image and the Body