Students are encouraged to take full advantage of the many opportunities within the field by actively applying for exhibitions and attending related conferences and workshops. The program is an active facilitator and supporter of conference attendance (e.g. Society of North American Goldsmiths (SNAG) conferences, YUMA symposium, Memphis Metals Museum Repair Days, Mint Museum, East Carolina University Metals Symposium, SOFA Chicago), field trips (e.g. American Craft Council Atlanta, Penland School of Crafts, Joanna Gollberg, Hoss Haley, Meghan Patrice Riley, Atlanta Contemporary Jewelry Show, Museum of Art and Design, St. Udio, Donald Cope Studio), and international travel (e.g. Munich Jewelry week, SIERRAD International Jewelry Fair). The area of Jewelry and Metals has its own studio spaces. Learn more about BFA degree requirements at the Lamar Dodd School of Art here. The program of study is further enriched by the Ann Orr Memorial Visiting Artist Program and the dynamic student-run organization Phi Beata Heata.
Ann Orr Memorial Visiting Artist Program 
The Ann Orr Morris Memorial Fund was established in 1988 by Martha Odum and the friends and family of Ann Orr. Since then, the Ann Orr Fund has enriched the jewelry and metals program of the School of Art with resources for annual lectures and workshops by nationally recognized leaders in the field of jewelry and metals. Past visiting artists include: 
Jamie Bennett 
Jan Brooks 
Jim Cotter 
Lane Coulter 
Linda Darty 
Mary Douglas 
Robert Ebendorf
Phil Fike 
Mary Lee Hu 
Curtis Lafollette
Mary Ann Scheer 
Sondra Sherman 
Deb Stoner    
Jonathan Wahl    
Jim Wallace 
Julie Woodman    
Nancy Worden    
Other recent visiting artists at the Lamar Dodd School of Art who are relevant to the area of Jewelry and Metalwork include Glenn Adamson, Melanie Blienker, Lola Brooks, Ashley Buchanan, Andrew Crawford, Gemma Draper, Iris Eichenberg, Jeaninne Fallino, Lauren Fensterstock, Gary Griffin, Yevgeniya Kaganovich, Anya Kivarkis, Janet Koplos, Zach Letchenberg, Anne and Paul Lings, Barbara Mann, Myra Mimlitsch-Gray, Gary Noffke, Jessica Todd, and Logan Woodle.
Phi Beata Heata Student Organization
Since 1976, the student-led jewelry and metalwork organization has promoted and expanded the field of jewelry and metals at the University of Georgia campus and within the larger local community. Phi Beata Heata contributes to special events on campus and holds a jewelry sale at the end of the fall semester to raise money for lectures, visiting artists, travel to national conferences, and museum visits. Follow Phi Beata Heata on Facebook. 
Upon graduating from the Jewelry and Metalwork area, students will be prepared for graduate study or for work in a variety of creative capacities. Examples of industries where such skills are in demand include jewelry, dental, and optometry in roles such as Studio Jeweler or Silversmith. There is likewise a need for the design and restoration of objects such as handbags, furniture, and shoes. Training in the area of Jewelry and Metalwork also prepares one for a role in the public sphere, whether through a museum or gallery as an educator or through public art or design consultations. Recent graduates of the School of Art's Jewelry and Metalwork program have taken positions with Todd Reed Jewelry, Bethenny Frankel, Domino magazine, Laurel Hill Jewelry, Urban Outfitters Inc., and the Center for Craft Creativity and Design.
---
Undergraduate Jewelry and Metalwork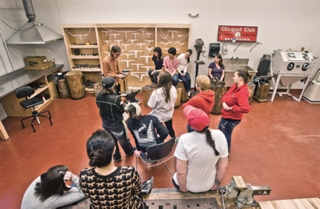 Students in the program will develop an understanding in various techniques such as metal fabrication, lost wax casting, raising, forging, stone setting, color on metal applications, and numerous forming and surface embellishment processes. Students interested in pursuing a Bachelor of Fine Arts (BFA) degree in the area of Jewelry and Metalwork must first submit work through the portfolio review process. Learn more about the portfolio review process by which undergraduate students apply to their area of emphasis here [ arts.franklin.uga.edu/portfolio-review ]. Students have access to equipment such as 3D printers, laser cutters, and CNC milling located within the Lamar Dodd School of Art and the UGA MakerSpace housed in the Science Library. These resources allow students to blend traditional skills with new technologies as they execute and explore their creative works. With the completion of a BFA Exit Project, students present a professional portfolio that can be used towards the application of graduate school or in the pursuit of a career as a creative professional in the field and beyond. Learn more about BFA degree requirements at the Lamar Dodd School of Art here.
Graduate Jewelry and Metalwork
The Master of Fine Art (MFA) degree in Jewelry and Metalwork at the School of Art is a comprehensive sixty-hour program of study emphasizing conceptual development, technical/material innovation, and critical analysis where research and creative practice take center stage. Concluding with the development of a mature and coherent body of work, the program serves as a springboard for a career as a creative professional in the field. The Jewelry and Metalwork graduate studios offer private, well-equipped space to make, collaborate, and research. Each individual studio is furnished with a jeweler's bench, large work bench, and ample storage with the opportunity to reconfigure and adapt the space as each candidate builds their studio practice among supportive graduate peers and faculty.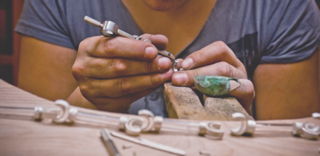 Importance is placed on expanding the student's knowledge of the history of the discipline and of contemporary ideas in the field and within the larger art world. Each semester the Jewelry and Metalwork program offers an area-specific seminar class that is required for MFA candidates. Student work is critiqued regularly, and critical discourse pertaining to the field is analyzed and discussed. The self-directed plan of study is individualized and requires a high degree of motivation. Students are expected to demonstrate the ability to conduct research as they build towards identifying a thesis topic which will exemplify the student's skill as a researcher and studio artist. All School of Art MFA students work closely with the Georgia Museum of Art to present their thesis exhibition. 
The area of Jewelry and Metalwork offers generous assistantships. These highly competitive awards cover tuition costs and offer a stipend. Assistantships are renewable year to year and generally last for three years. First-year Graduate Assistants work for the School of Art. In the following years, they have the opportunity to teach classes. For more information about graduate programs at the Lamar Dodd School of Art, contact our Graduate Office.
---
Follow the Jewelry & Metals Area on Facebook and Instagram
---