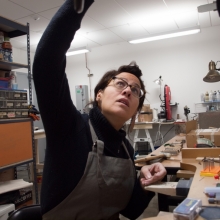 Location:
211 South Thomas Street Art Complex
Thomloudis received her MFA from San Diego State University after receiving a BFA from the Cleveland Institute of Art. She is a recipient of a Kent State University Research Council Award, the Bedichek-Orman Professional Development Grant, was a 2015 nominee for the American Craft Council Emerging Voices Award, and was a Society of North American Goldsmiths' (SNAG) Emerging Artist featured at SOFA Chicago in 2014 with representation by Charon Kransen Arts. Her artist residencies include the Houston Center for Contemporary Craft and Smitten Forum. Thomloudis' work is exhibited internationally in exhibits such as Unclasped Discovering Contemporary Greek Jewellery at the Hellenic Museum in Melbourne, Australia in 2015, JOYA in Barcelona courtesy Alliages Organization, New Traditional Jewellery Confrontations, featured at SIERAAD Art Fair and The Museum for Modern Art in Arnhem, Netherlands, and the 2013 Beijing International Jewelry Art Biennial. Her work has been including in the books 500 Plastic and Resin Jewelry and 500 Enameled Objects published by Lark Books and The Art of Jewelry: Plastic & Resin: Techniques, Projects and Inspiration.
 ​
Research Detail:
My jewelry is influenced by the vernacular architecture and landscapes of site-specific locations. This interest has led me to identity particular aesthetic characteristics and construction techniques that I employ to create works to be worn on the body. As an artist using jewelry/objects as an artistic format for self-expression, my work intends to challenge the construct of the medium as a means to examine value, material sign systems and extensions of personal/place identity. By relating to the aesthetics of architecture/landspace/place in this way I see jewelry having the potential to connect us closer to the world we are surrounded by.