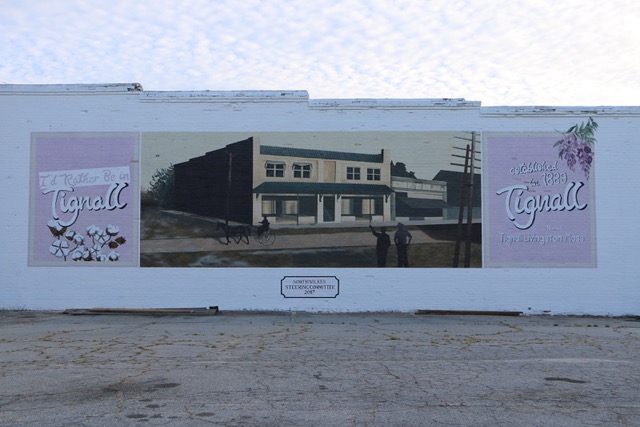 Mural by Dodd students in Tignall, Georgia
Students at the Lamar Dodd School of Art recently completed a new mural in the town of Tignall, Georgia. Hannah Duggan (Painting), Katherine Eidson (Drawing), Young Lim Lee (Painting), Benjamin Thrash (Art Education), and Lucy Wellborn (Graphic Design) worked for over a month on the project with student project leader Gunnar Tarsa, who recently graduated with a BFA in Painting and Drawing from the School of Art. The cross-departmental team was supervised by painting professor Joseph Norman.
Tignall lies an hour's drive east of Athens and has a population of approximately 600 people. As one step toward revitalizing the small town, the North Wilkes Steering Committee wanted to create a mural that would highlight an important turn-of-the-century building. The Committee asked the School of Art for help with the idea. Norman's "Color the World Bright" student mural group responded with a proposal for a 22 x 60-foot mural that was accepted by the Committee. The students worked together on Fridays and Saturdays for several weeks. Their joint efforts over seven working days earned a commission of $2,500. The mayor of Tignall will present these students with a proclamation from the town in honor of their hard work. 
The mural is third public art commission completed this year by School of Art students under the supervision of Norman. Read about the recently created murals at Snelling Dining Commons on The University of Georgia campus here and about the mural honoring veterans in Rutledge, Georgia here. 
STUDENT MURALISTS SHOWN LEFT TO RIGHT: TARSA, LEE, THRASH, EIDSON, DUGGAN