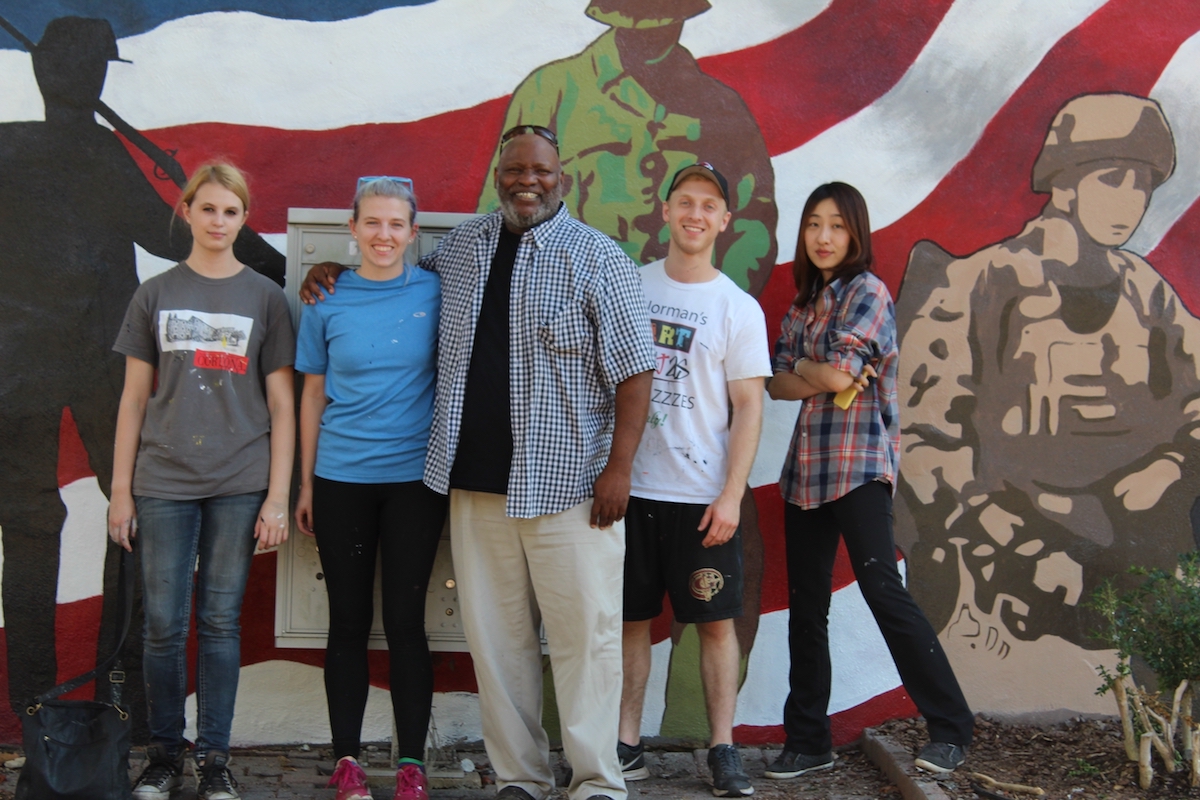 Students Hannah Duggan, Young Lim Lee, Garrett Ray, Selena Roth, and Gunnar Tarsa with Professor Joseph Norman
On Saturday May 13, 2017, Lamar Dodd School of Art students completed a large public mural honoring veterans in Rutledge, GA. This project came about through an agreement with the Rutledge Garden Club. President of the club Pam Strapp initially reached out to School of Art Professor Joseph Norman. She wanted to know if he would be interested in engaging his students to create a new mural that would honor and salute veterans who have served in the military. Norman selected five students from the School of Art—Hannah Duggan, Young Lim Lee, Garette Ray, Selena Roth, and Gunnar Tarsa—for the project. Duggan and Lee are current undergraduate students, while Ray, Roth, and Tarsa graduated this semester with their Bachelor of Fine Art degrees from the University of Georgia.
First, the School of Art group traveled to Rutledge to meet with the 24-member garden club and discuss plans for the mural. The students each created concept drawings for the planned mural and the student Project Manager, Selena Roth, synthesized them and design the master plan for the mural. They began work on Monday May 8, after the University's graduation activities. The Garden Club paid for all supplies, room, and board for the duration of the project as well as providing a stipend for transportation and incidentals. Newly minted graduate and student Project Manager Selena Roth expressed her appreciation of the opportunity Professor Norman provided, saying: "It was truly a wonderful experience, and I'm so grateful to have closed out my undergraduate career with this capstone."
During the annual Memorial Day Festival on May 27, the town will dedicate the mural and honor the School of Art students who made it.