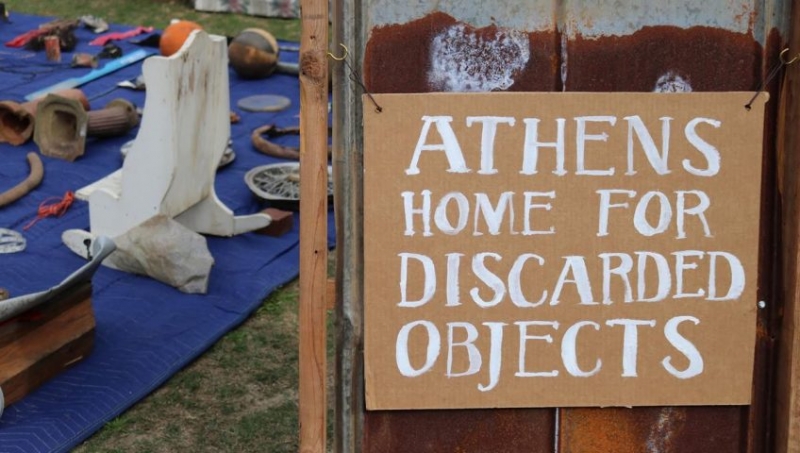 The Athens Home for Discarded Objects invites people to take a second look at objects that have been left behind in our environment. This two-part installation in the UGA Science Library features objects that were found as part of a highway and stream cleanup of Barnett Shoals Road in Athens and Tanyard Creek on the UGA campus. Participants are invited to "adopt" an object by filling out a "birth certificate" and imagining a story, name, and date of birth. The installation features some of the objects and their stories from the adoption event, which was held as part of Sustainable UGA's Zero Waste Extravaganza in February 2017, displayed alongside original prints by Abigail West and a handmade book by Kira Hegeman. This second part will be open for participants to newly adopt objects from a recent cleanup of Barnett Shoals, filing the new birth certificates in a book set up so that others can come read through these stories.
Kira Hegeman and Abigail West are both students of Lamar Dodd School of Art and interns in the UGA Office of Sustainability. Hegeman is a PhD student in Art Education and serves as the first artist-in-residence for the UGA Office of Sustainability. West is currently an undergraduate student in Printmaking and Book Arts and serves as a Material Reuse Intern of UGA Office of Sustainability. She has been key to managing the Material Reuse Project, coordinating with students and staff at Coile Middle School and preparing materials and challenges for the project. They hope to encourage people to think about the full life cycles of the common objects, with the goal of promoting mindfulness and reuse in a culture of consumption and consumerism.
Please join us for an opening reception on Thursday, October 5, 2017 to celebrate these objects and their stories. The reception will be from 6–8 pm in the lobby of the UGA Science Library, with light refreshments provided.