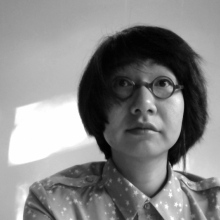 Location:
N214, Lamar Dodd School of Art
Moon Jung Jang is a graphic designer, visual artist, and teacher. Her primary research involves narrative systems such as Multiple Narratives in Visual Form, Polyhedralness as Multiple Narratives, and Color Value in Space-Time and promotion design for socio-cultural events and art exhibitions such as symbol, logotype, book, and poster design. Her work has been presented in solo exhibitions, Disturbed Boundaries (2009), A Minor Arc (2010), and % (2012). Her graphic design has appeared internationally and nationally in many exhibitions such as The Tranava Poster Triennial (Slovakia); The International Poster Triennial (Japan); The International Poster and Graphic Arts Festival of Chaumont (France); The Golden Bee Moscow International Biennale of Graphic Design; Print Regional Annual Competition (USA); Annual UCDA Design (USA); 365: AIGA (New York, USA); AIGA SEED Award GALA (Atlanta, USA). She is an assistant professor of graphic design at the University of Georgia, Lamar Dodd School of Art, in Athens, Georgia (USA).
Research Detail:
My primary research focuses on narrative design that explores design systems, methods, and forms to create multiple visual narratives. In my work, I study the relationships between multiple narratives and simultaneity, transformation, duality, modularity, polyhedralness1, and ambivalence as visual concepts. These studies allow me to discover metaphorical perspectives, to pay attention to everyday objects, and to visualize non-visible information (such as temperature) in order to understand its meaning.