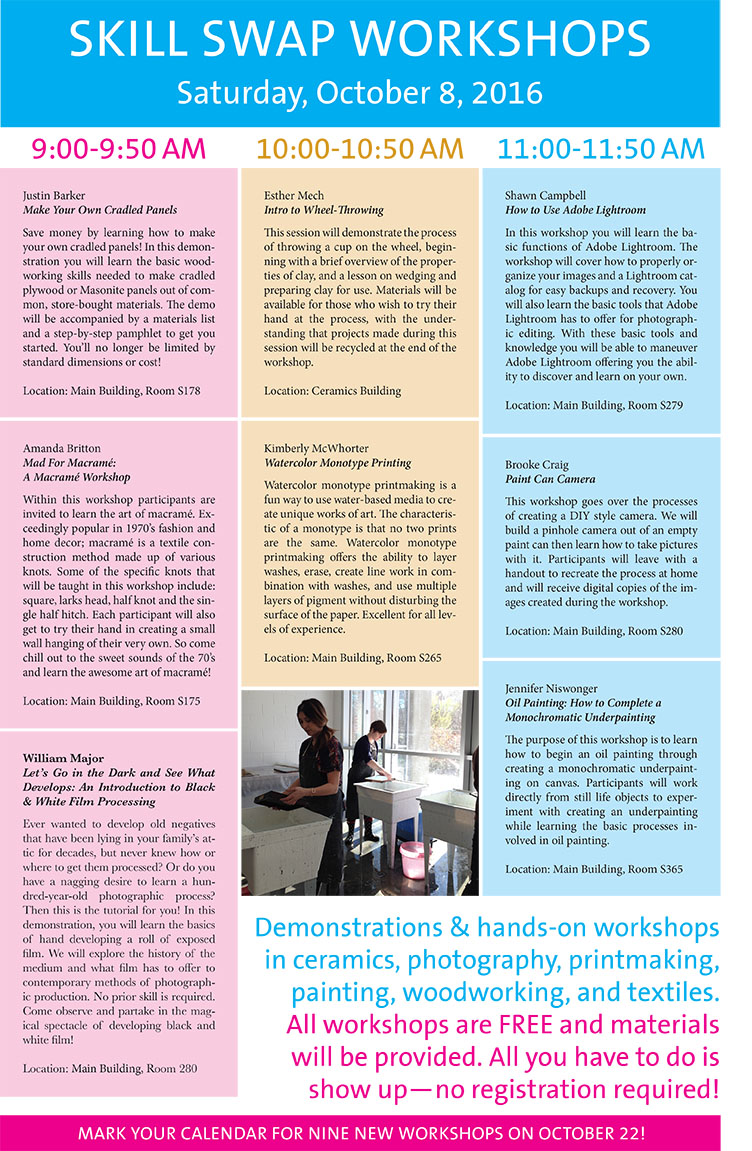 This past weekend eight first-year MFA students in the Lamar Dodd School of Art shared a variety of their favorite techniques and tools with faculty, students and staff of the School in the first annual Skill Swap Workshops. The students are all enrolled in a new course that looks at the methods and practice of college-level teaching. From backward course design principles to creative ideation and critique rubrics, the course is preparing the next generation of graduate teaching assistants and future art and design professors. Michael Marshall, Associate Director of Curriculum & Professor of Photography, describes instruction in the art studio:
"Teaching in the visual arts not only requires the skills of your medium. Instructors must be able to clearly articulate techniques, vision, design thinking, creative exploration, and the workflow of the creative process, integrating historical and contemporary references, as well as confronting time management, evaluation rubrics, and the emotional discussions that often accompany art critiques. This new course on pedagogy addresses and supports the complexity confronting new teachers. As part of the class, these Skill Swap workshops give the students an opportunity to test their developing teaching skills, while offering a new resource for the community."
Students from the class offered one-hour workshops in studios across the School. Amanda Britton's Mad For Macramé Workshop gave participants a chance to learn several types of macramé knots while considering the sights and sounds of the 70s, when macramé was popular in fashion and home décor. Jennifer Niswonger's workshop, How to Complete a Monochromatic Underpainting, introduced participants to the basic tools and processes involved in oil painting. Other workshops included William Major's Introduction to Black and White Film Processing, Justin Barker's Make Your Own Cradled Panels, Esther Mech's Intro to Wheel-Throwing, Kimberly McWhorter's Watercolor Monotype Printing, Shawn Campbell's How to use Adobe Lightroom, and Brooke Craig's Paint Can Camera.
The idea for the Skill Swap Workshops came out of brainstorming sessions with faculty and graduate students in the weeks before the fall semester began. Art history students wanted a chance to experience some of the tools and techniques that they were studying in the classroom and studio art and design students wanted exposure to other studio disciplines and processes before considering enrolling in a semester studio course. The Skill Swap Workshops offered these opportunities while providing these aspiring professors a chance to practice their teaching skills.
Nine more workshops will take place on Saturday, October 22nd and will be taught by the other half of the first-year MFA candidate cohort. Mark your calendars!