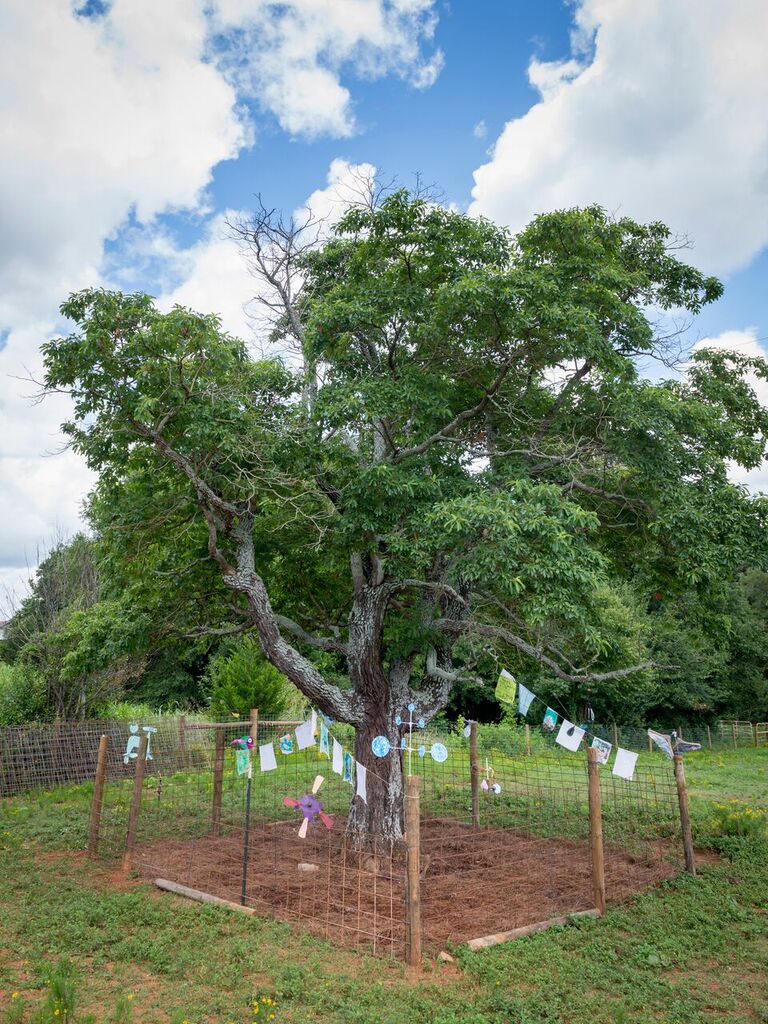 FINAL INSTALLATION OF STUDENTS WORK, WHIRLIGIGS AND WIND HORSES, AND FENCE.
Georgia's second largest sassafras tree is located in Athens, Georgia, and Dodd students have lent a helping hand in its restoration. The tree has been unable to maintain the healthy, woodland–type soil it needs at its roots, which have also been de–barked by horses.
In coordination with landowners Susan and Alan Kemp, Dodd Instructor Elizabeth Hatmaker invited her Drawing I students, Drema Montgomery's Color and Composition students, and Heather Foster's 3D Design students to come together and build a fence around the tree. With the help of local horticulturalist, Kathrine Clark, rootings were taken to replant in the area. Soil amendments, including appropriate fungi mycorrhizae and moisture–retaining mulch, were also made within the fenced area.
Some students made drawings of the tree, while others created wind horses and whirligigs (flags and moving wind sculptures, respectively) to be installed on the fence. The motion of these elements made the fence more visible to the horses.
An installation about the Sassafras Project can be viewed in the Foundations exhibition, Kaleidoscope, which is installed in the Suite gallery and the Foundations Project Space of the Dodd. A closing reception for the show will be on August 29 from 5–7 pm. 
FINAL INSTALLATION OF STUDENTS WORK, WHIRLIGIGS AND WIND HORSES, AND FENCE.

WIND HORSES INSTALLED BY STUDENTS