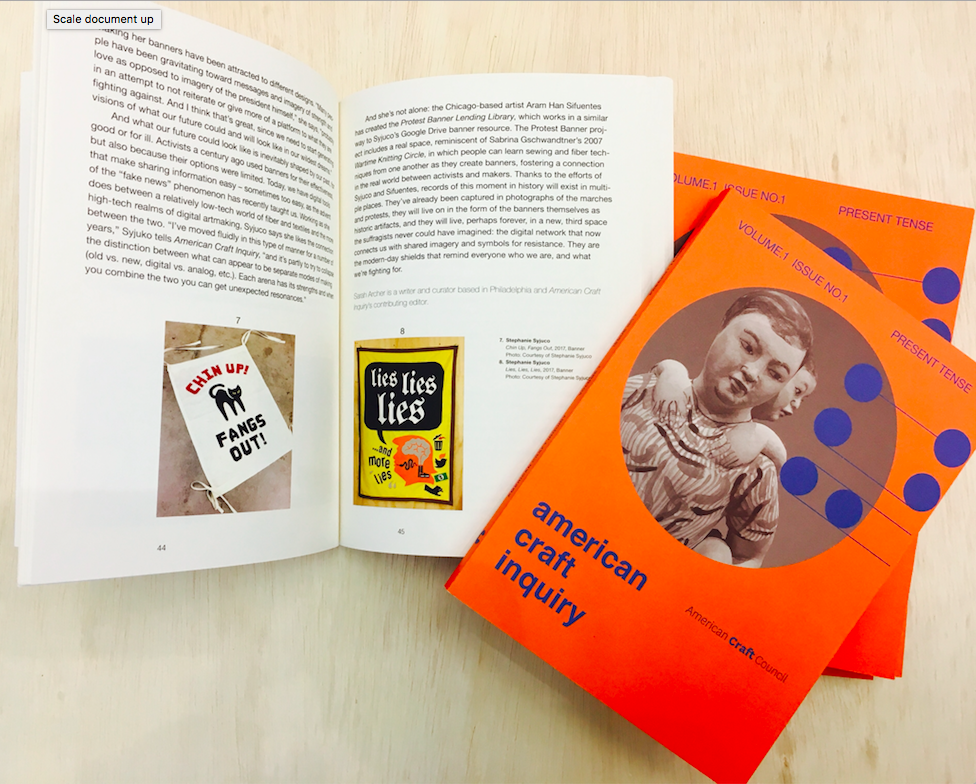 In April the American Craft Council published the inaugural issue of its new journal, American Craft Inquiry (ACI), a publication committed to presenting research that cultivates critical discourse and advocates for craft as an important cultural resource. Last fall, Dodd Assistant Professor of Graphic Design Moon Jung Jang was selected to be the creative director and designer for this new journal. Jang's design concept for American Craft Inquiry envisioned it as a space to engage and inquire critically, and to establish future vision, and as an object that encourages readers toward actions and reaction. 
The first issue, Present Tense, edited by Michael Radyk, features in-depth essays on contemporary and historical craft issues, exhibition reviews, and a detailed look at items from the American Craft Council Archives including Opt In: The Power of Craft Thinking by Sarah Archer, Growing Organism by Jessica Shaykett, Civic Crafts and Plug in Whittling by Otto von Busch, Four Layers, Six Spaces by Garth Johnson, A Legacy: Hair, Language, and Textiles by Sonya Clark, among others. This biannual publication is available at national art and design museums, shops, university libraries (including UGA's main library) as well as the Art Library in the Lamar Dodd School of Art. 
The American Craft Council is an arts nonprofit committed to cultivating a culture of making and recognizing the significant impact craft has on individuals and communities. The group aims to preserve, cultivate, and celebrate the communal craft heritage.