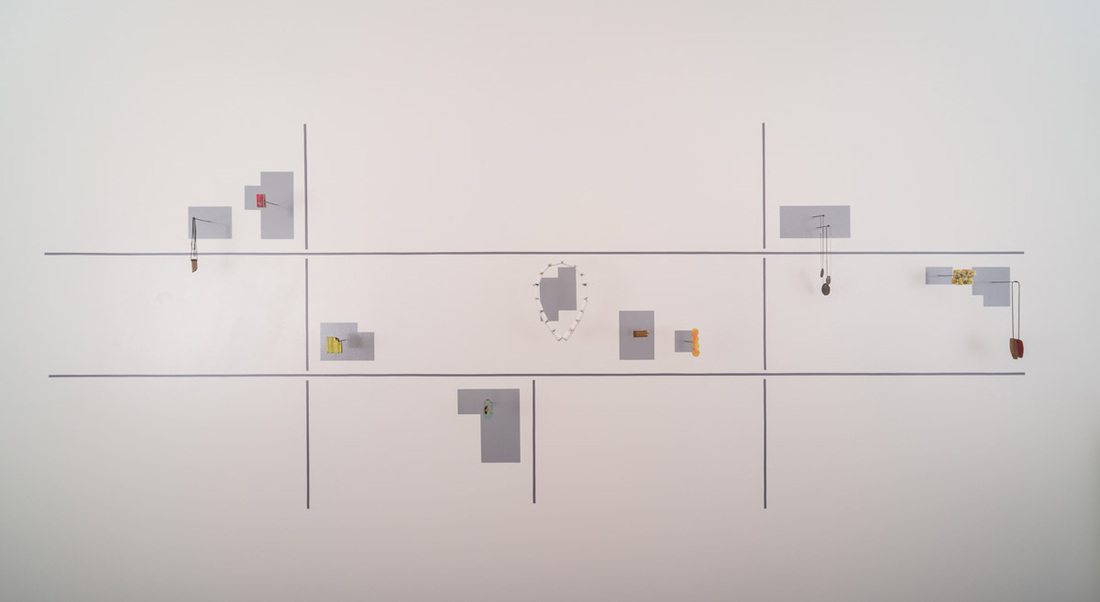 Installation views of jewelry, The Houston Yellow Tape Project, 2013-14
Jewelry & Metals Assistant Professor Demi Thomloudis is included in the group exhibition "Shelter: Crafting A Safe Home," opening September 8, 2017 in Pittsburgh, PA. "Shelter: Crafting A Safe Home" brings together work by fourteen artists that address shelter, refuge, and protection. The included works focus on safe housing as a basic human need, and the exhibition aims to create awareness and open dialogue around this social issue. "Shelter" is organized by Contemporary Craft, a non-profit arts center located in Pittsburgh. The exhibition is accompanied by robust programming and will travel to other venues including the Ohio Craft Museum, Columbus, OH and Springfield Museum of Art, Springfield, OH.
Thomloudis's jewelry is often influenced by vernacular architecture and landscapes of site-specific locations, and that interest is exemplified in the works on view in "Shelter." Thomloudis is showing The Houston Yellow Tape Project. From August 2013 to August 2014, the artist documented ten residential homes being demolished within the two-block radius of her home in Houston, Texas and created ten pieces of jewelry from remnants found at each home's demolition site.
Thomloudis says of the project:
Formed by remnants collected from these individual sites, the jewelry captures both a collective and an individual identity and preserves a fragment of what no longer exists. The jewelry in Houston Yellow Tape Project physically embodies a singular, discarded moment during the sprawling of the city.
Thomloudis is Assistant Professor in the Jewelry and Metals department at the School of Art. She received her MFA from San Diego State University and her BFA from the Cleveland Institute of Art. She is a recipient of a Kent State University Research Council Award, the Bedichek-Orman Professional Development Grant, and a 2015 Nominee for the American Craft Council Emerging Voices Award, among others. Artist residencies include the Houston Center for Contemporary Craft and Smitten Forum.
Learn more about the exhibition "Shelter: Crafting A Safe Home" on its website.
Installation views of jewelry, The Houston Yellow Tape Project, 2013-14

Broach, The Houston Yellow Tape Project