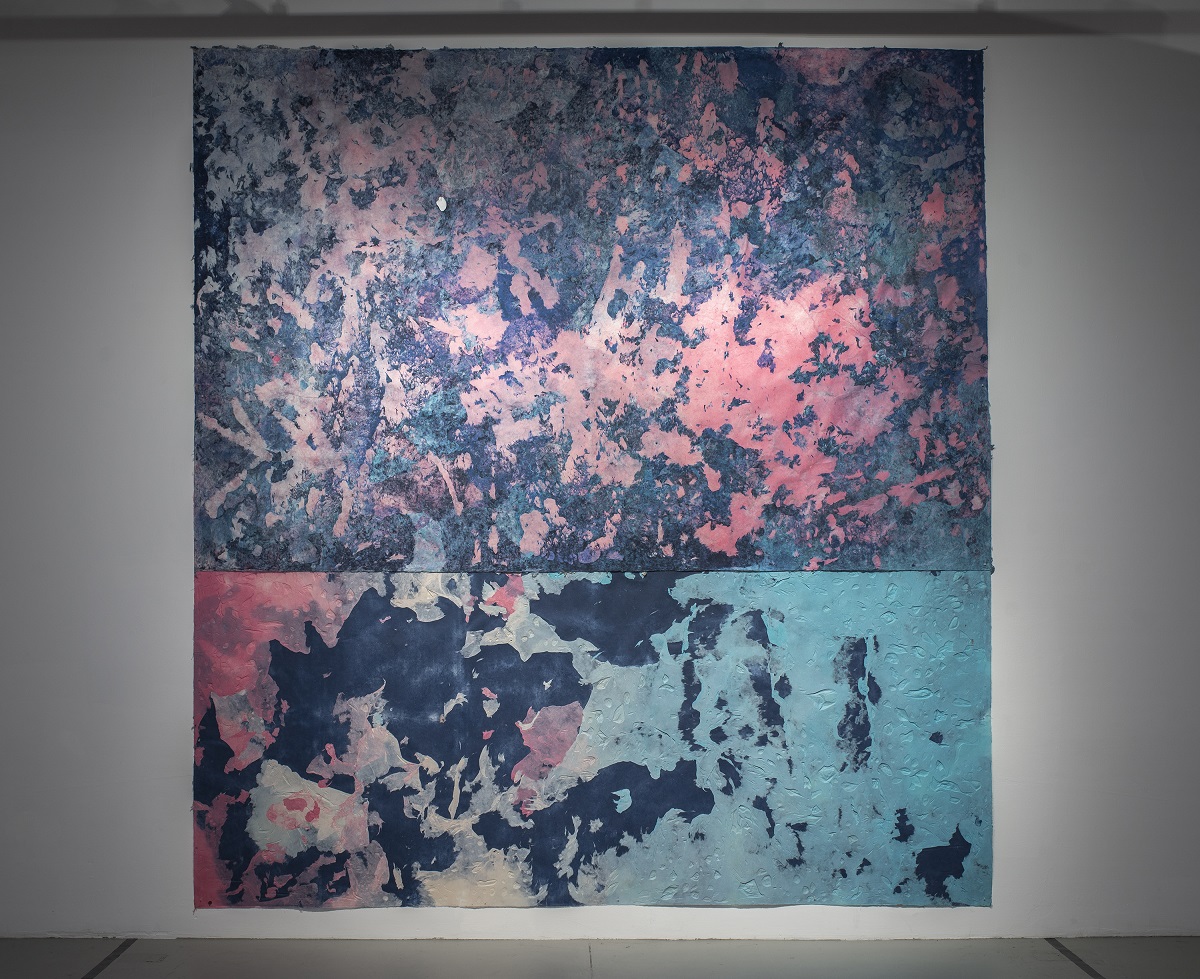 Hong Hong, Selection from All the Light in a Vivid Dream series, 2017. Kozo, repurposed paper, dust, sun, water, 150 x 140 in. Photographer: John Groo. Courtesy of Artist and Real Art Ways (Hartford). © Hong Hong
School of Art alumna Hong Hong was recently featured in Art21 Magazine. The article focuses on her practice in relation to a solo exhibition at Real Art Ways in Hartford, Conneticut. Hong is an interdisciplinary artist whose practice spans papermaking, sculpture, installation, and performance.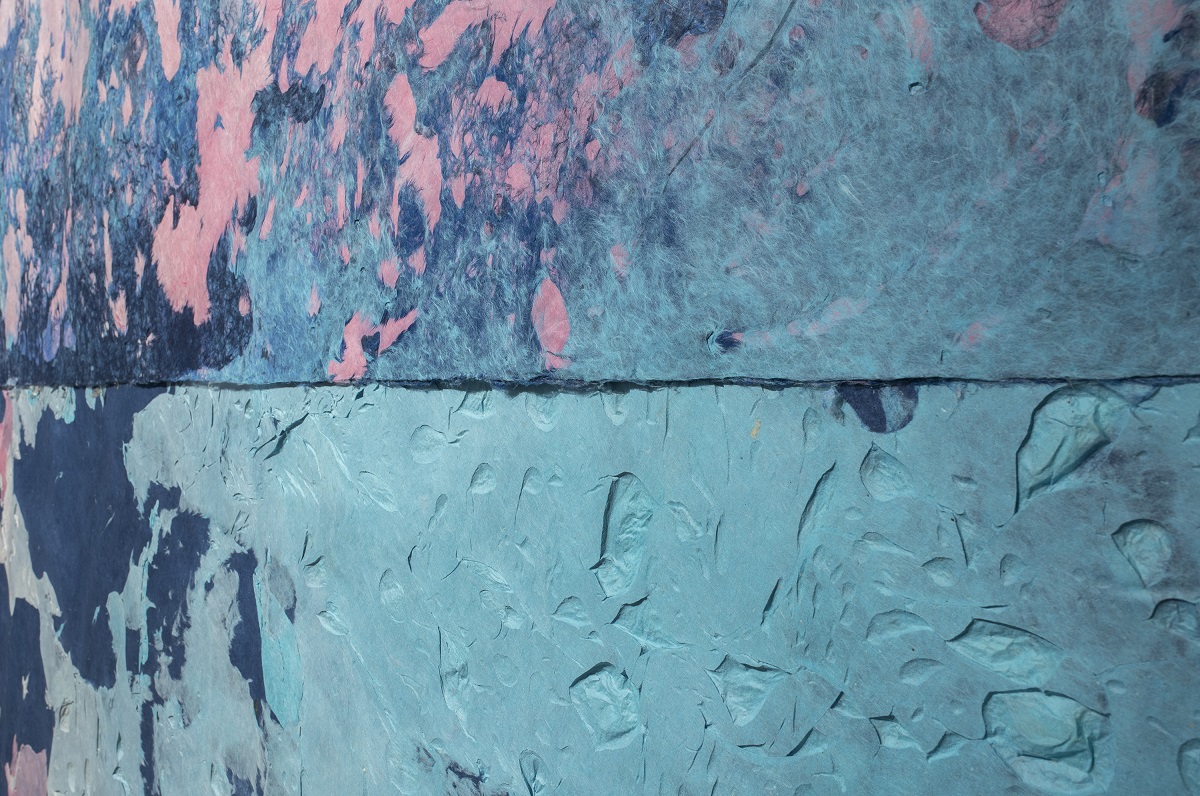 The exhibition All the Light in a Vivid Dream is on view through October 29, 2017 at Real Art Ways. It features a series of large-scale, hand-poured paperworks that Hong completed during a residency at the Morgan Art of Papermaking Conservatory & Educational Foundation in Cleveland, Ohio earlier this year. These monumental hanging sheets form part of Hong's ongoing investigation into papermaking:
I entered the School of Art as a graduate student in the Painting & Drawing department. However, I was dissatisfied with the immediacy of adding and subtracting materials on two-dimensional surfaces. In hindsight, I think I have always been more interested in the unknowability of something, whether it had to do with an art object or our lives. I wanted to create forms and experiences that could exist outside of the realm of my hand, intuition, and decision-making, all of which I knew intimately. How can I construct something that would come into being in one moment, and in another moment, completely dissolve, of its volition?
The pieces in the exhibition as well as recent projects situated outside refer to the natural landscape and point to the horizon line, aspects that Hong thinks about in relation to her work:
When I consider the reasons for my environmental explorations, I come back to the idea of human navigation and the horizon. The horizon is an interesting place. Where does the horizon exist? Does land ever touch sky? Maybe it only does in our dreams. One can argue that the horizon is simultaneously present and absent: it is a constant, and yet, with every passing moment, it changes. I am interested in the natural expanses that we yearn for, as well as the desire to migrate to them, map them, and with our best efforts, record them. Through land, through the sea, through sky, and through the stars, we seek, and find our own coordinates.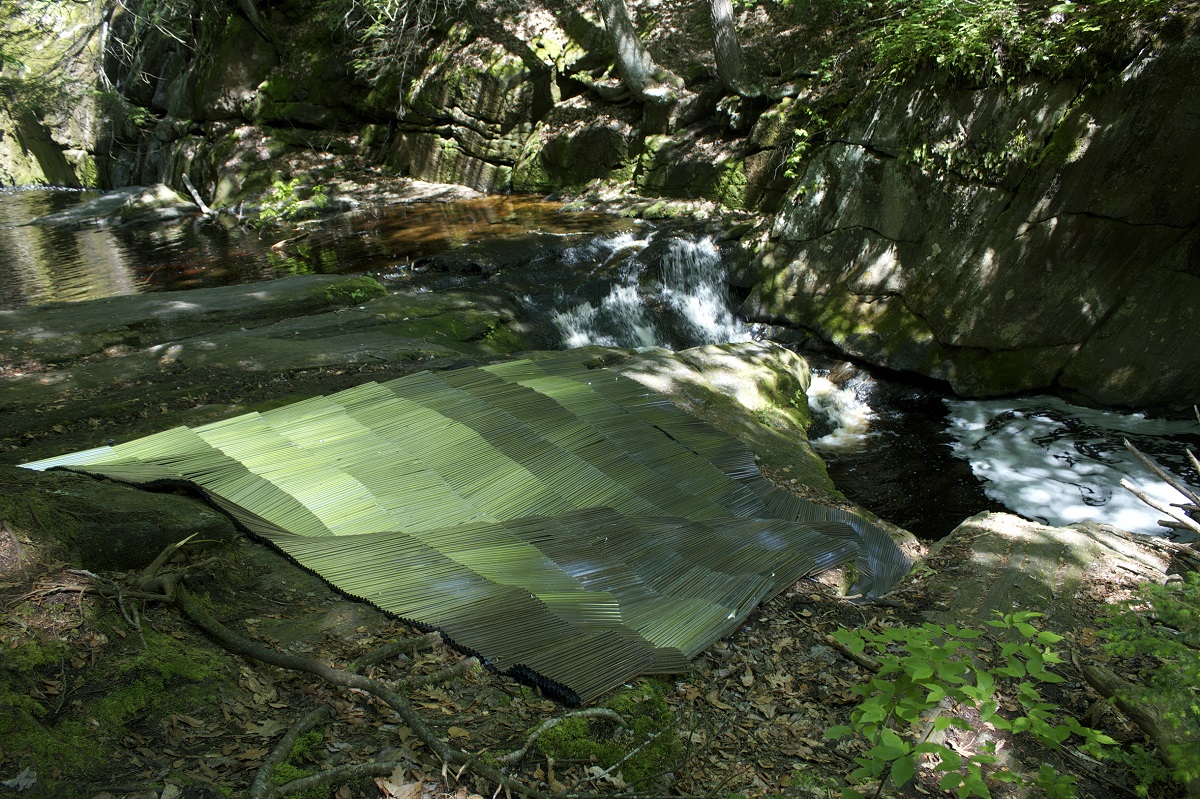 Hong received an MFA from the School of Art in 2014, after graduating with an undergraduate degree from the State University of New York at Potsdam in 2011. She recalls the many ways her time at UGA impacted her practice:
I spent a substantial amount of time in the Painting & Drawing department (affectionately known as P & D). Benjamin Britton introduced me to Agnes Martin's writing. Once on a field trip to the High Museum, Ben discussed his love for surfing, as well as the sport's similarities to his practice. Those were my first recognitions of the inseparability between art, a life lived, and an unfinished world.

During my time as a graduate student, I was surrounded by educators and artists who believed in each other, and who did their best to help each other whenever possible. I was incredibly lucky, though I didn't know it at the time. The three years I spent in Georgia, and the people I met while I was there, remain tremendous to me, to this day.
Although Hong was a student in the area of Panting & Drawing, she also spent a significant amount of time studying paper making with Printmaking and Book Arts instructor Eileen Wallace. They worked together to develop custom moulds and papermaking techniques, and Hong received a Wilson Center Grant to fund the construction of a modular mould. Hong describes the space that Wallace provided for her:
I often worked in the papermaking studio on the first floor of the School of Art. Eileen Wallace was one of my mentors. Eileen created a malleable landscape, for many students, in which everything was on the verge of becoming something else. It is there, in this transformative space, that I learned how to see things not for what they are, but for what they could be
Hong currently lives in Connecticut, where you can find her making paper in empty parking lots and working on a yearlong, site-specific project called Everlasting Ephemera. Everlasting Ephemera continues her exploration of landscape through outdoor installations using color-changing plastics. Hong's work has been exhibited across the United States in shows at Real Art Ways, Newhouse Center for Contemporary Art, Pittsburgh Center for the Arts, New Mexico History Museum, Madison Museum of Fine Art, and the Georgia Museum of Art. She is the recipient of grants and commissions from the Foundation for Contemporary Arts, Center for the Arts at Wesleyan University, the Edward C. & Ann T. Roberts Foundation, the Greater Hartford Arts Council, and Artspace New Haven.
See more recent work by Hong Hong.
Hong Hong, Blue Box I, environmental installation at Summer Lake, OR, 2017. Cellophane, plexiglass, Saran wrap, 12 x 36 x 30 in. Courtesy of Artist. © Hong Hong

Hong Hong. Selection from All the Light in a Vivid Dream series, 2017. Kozo, repurposed paper, dust, sun, water, 150 x 140 in. Photographer: John Groo. Courtesy of Artist and Real Art Ways (Hartford). © Hong Hong

Hong Hong. Selection from All the Light in a Vivid Dream series, 2017. Kozo, repurposed paper, dust, sun, water, 150 x 140 in. Photographer: John Groo. Courtesy of Artist and Real Art Ways (Hartford). © Hong Hong

Hong Hong, Passage II, environmental installation at Summer Lake, OR, 2017. Cellophane, wood, steel, 8 x 228 x 144 in. Courtesy of Artist. © Hong Hong

Hong Hong. Void, environmental installation at Enders State Park, CT, 2016. Mylar, fishing line, 240 x 240 in. Courtesy of Artist. © Hong Hong