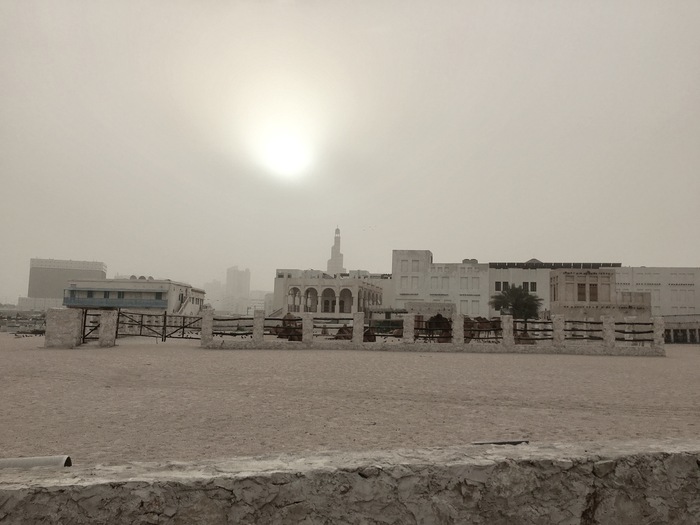 Photograph taken by Marni Shindelman during her trip to Qatar in March
Opportunities in Doha, Qatar and Belfast, Ireland brought Dodd Assistant Professor Marni Shindelman across the globe this past March. Shindelman, recently selected for a Rauschenberg Residency Fellowship, is an assistant professor and Area Chair for Photography and Graphic Design at the Lamar Dodd School of Art. As a photographer, she has a collaborative practice with creative partner Nate Larson that investigates the data tracks we amass through networked communication.
On March 15 and 16, Shindelman and Larson gave a workshop titled "Place & Time" at the Tasmeem Doha biannual design conference in Doha, Qatar. This year's theme, analogue living in a digital world, considers ideas that speak to our human existence in a technological society. The intent of the conference is to explore the intersection between the analogue and the digital within the context of lived experience. Larson and Shindelman have worked collaboratively for ten years, notably on their Geolocation project, which they presented at the workshop. Geolocation traces Twitter posts to the point of origin and makes a photograph to mark the location in the real world, illuminating the invisible layer of data that surrounds us and probing the expectations of privacy surrounding social networks. For Tasmeem Doha 2017, the pair photographed sites geotagged by Tweets with the Arabic hashtag قول_كلمة_لقطر, or "say a word for Qatar." During the workshop, they shared their photographs made before the start of the conference and also invited conference attendees to participate by choosing a site to photograph and contributing to the project.
During this same month, Shindelman spent a week giving critiques, seminars, and a lecture in Ireland at the Belfast School of Art, part of the University of Ulster. Her presence was part of the University of Georgia's Franklin College of Arts and Sciences International Faculty Exchange Program. The program aims to promote research and teaching collaborations between Franklin faculty and faculty at partner institutions throughout the world. For this exchange, Shindelman went to the University of Ulster, and Belfast School of Art professor and photographer Paul Seawright will come the University's Lamar Dodd School of Art for a week in August. The Belfast School of Art has a long-standing tradition in the photographic community as a school for social documentation. The teaching exchange centers on shared interest between Shindelman and Seawright in the role of media in political support. While in Ireland, Shindelman photographed local sites for her ongoing Geolocation project following a workshop model where Belfast School of Art students helped her mine the data and scout locations. Shindelman and Seawright hope that their exchange can foster a collaboration between graduate students in these two programs.
Photograph taken by Marni Shindelman during her trip to Ireland in March

Photograph taken by Marni Shindelman during her trip to Ireland in March