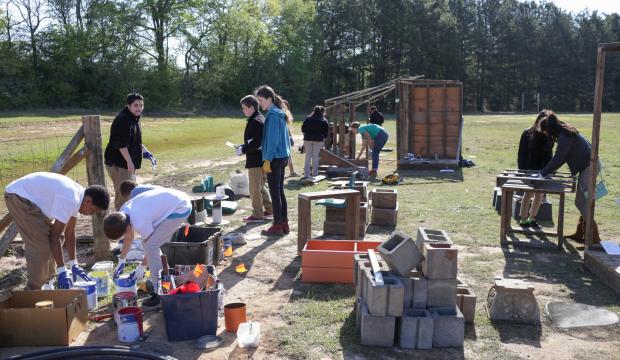 Kira Hegeman, a Ph.D. candidate in art education, was recently featured in a UGA College of Education profile about her role as the first artist-in-residence for the UGA Office of Sustainability. 
During the residency, Hegeman worked on various projects that explored creative ways to re-purpuse and re-use discarded items on campus, including working with interns from Watershed UGA to create an art installation for an event, setting up a papermaking station outside of Tate Student Center on campus, and collaborating on a project at a local middle school to re-purpose materials into new landscape features.
Read more about the role Hegeman played on the team that received a sustainability grant that conducted a material re-use STEAM challenge project with students at local Coile Middle School last spring, which included Dodd undergraduate studio art major Abigail West, who was working as a material re-use intern with the UGA Office of Sustainability. 
KIRA HEGEMAN, PH.D. CANDIDATE IN ART EDUCATION IN THE LAMAR DODD SCHOOL OF ART