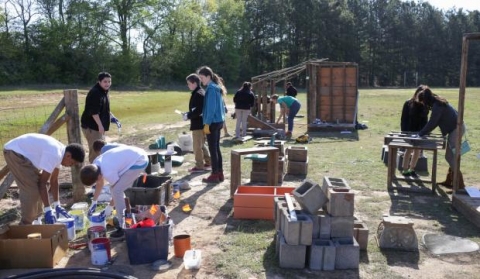 McDowell with Coile Middle School students on April 11, 2017. Photo: John Roark, Athens Banner-Herald.
Collaborating across University of Georgia departments, Lamar Dodd School of Art students design and teach a new curriculum based on recycled wood and hands-on learning to local middle schoolers. As part of a broader sustainability initiative, the University's Material Reuse Program salvages materials from construction and demolition sites in order to reuse them for landscape projects. A recent $5,000 grant from The Office of Sustainability allows current Dodd students Kira Hegeman, Zachary Harris, and Abigail West and Chris McDowell, program coordinator of the Material Reuse Program, to introduce a reuse program at Coile Middle School.
Above Image: Image: UGA staff and students work with Coile Middle School students on April 11, 2017. Photo: John Roark, Athens Banner-Herald..
A recent article in the Athens Banner-Herald highlights the project, describing a recent day at Coile Middle School:
"Five basic wooden structures were arrayed on the school's back lawn Tuesday morning, each one alike yet different — one would be a composting station, another a giant loom, while another would house a kind of giant game board. It was the job of the gloved students to add the final touches, which the students got to design themselves in small teams. Their projects include painting a garden scene on one of the structures, making wooden boxes to grow herbs, building a rough table for another and fashioning a huge wind chime of bamboo sticks hung beneath a plastic lead — all of it made with recycled building materials."
Art Education doctoral student Kira Hegeman was at the middle school with two UGA undergraduates, Abigail West and Janie Day Whitworth, to help the students construct the different projects from wood and other reused materials.
Hegeman and Zachary Harris, a Dodd MFA candidate in Sculpture, worked with McDowell to write the grant for this project, with substantial help from former Sustainability Intern Isabel Hinsch. Hegeman says: "The focus of the grant was to use re-purposed materials to create STEAM challenges with local middle school students." The so-called STEAM disciplines are science, technology, engineering, math, and art. Hegeman continues:
"We downsized a bit to focus on 6th grade groups at Coile Middle School. The students are using materials from Chris McDowell's material re-use site on Milledge and some modular components that we built from the same materials to respond to design/build challenges related to art and sustainability."
Current Sustainability Intern Abigail West, an undergraduate art student at the Dodd focused on Printmaking, has been key to managing the project, coordinating with students and staff at Coile Middle School and preparing materials and challenges for the project.
Congratulations to the many UGA staff and students who worked together to bring this project into the wider Athens community!
McDowell with Coile Middle School students on April 11, 2017. Photo: John Roark, Athens Banner-Herald.