By
Anonymous (not verified)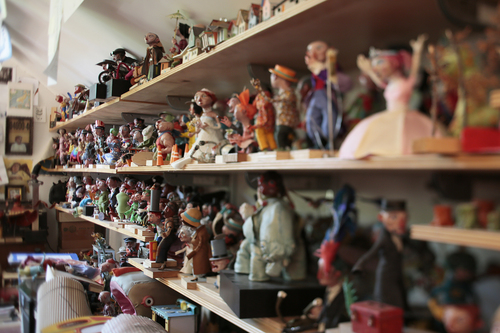 Artist and illustrator Chris Sickels visits the Dodd this fall as the Jack Davis Visiting Artist/Designer Lecturer. The lectureis at 5:30 pm Thursday, November 3 in Dodd Auditorium S151.
Sickel's Red Nose Studio specializes in character development, animation, dimensional illustration, sculpture and photography. Illustrations and animations by Chris Sickels have been recognized by American Illustration, Communication Arts, and HOW. The Society of Illustrators has awarded three golds and a silver medal for both illustrative and motion work. The stop-motion animated films have screened at various festivals including Los Angeles International Short Film Festival and Montreal Stop-Motion Film Festival. He has authored and illustrated various books: The Look Book, and illustrated the children's books Here Comes The Garbage Barge, The Beginner's Guide to Running Away From Home, and The Secret Subway.
Along with class visits and the Jack Davis lecture, Sickels will conduct a workshop charrette with students the weekend of November 5th and 6th. 
Workshop:
November 5th and 6th:
This fall's Jack Davis Visiting Artist/Illustrator Chris Sickles will be offering short course workshop for the weekend of November 5th and 6th for up to 20 students. Sign up necessary.
The workshop will focus on character design, hands on manipulation and assemblage of found objects, 2D –3D spacial relations and translating a 2D design into three dimensions. Composing visual elements in camera, lighting, photography, controlling audience point of view, and type considerations will be covered.
Students will be asked to build dimensional characters out of previously collected non-traditional materials and will be encouraged to take advantage of existing texture and color of found objects to help enhance certain aspects of the character. Incorporating typography will also be a focus of the character designs so that they are constructed in such a way that when the assemblage is rotated the suspended objects will create a letter form.
The workshop is now full.