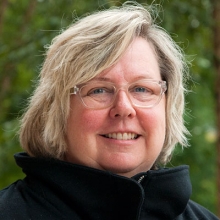 Location:
Room S391, Lamar Dodd School of Art Main Bldg
As with many Textile Artist, one's interest in textiles is generational. In my case, my maternal grandmother crocheted and sewed, my mother sews, knits and was a ceramist. My father used his creative skills in woodworking and also in ceramics. So it was only natural for me to embrace painting.
I graduated from UGA in 1986 with a B.B.A, Marketing but used my elective classes to take studio art classes. My art professors asked me why I was not pursuing an art degree. My only answer was "I want to travel around the world and I want to find a company to pay me to do so". I entered the world of corporate incentive travel with a company based in St. Louis, MO. For 12 years my life was a dream come true traveling to private islands in Fiji, camps in Africa and riding elephants to palaces in India. All of these experiences were amazing but I found myself more intrigued with the textiles of each of these countries. The materials, processes, motifs and colors are inspired by the culture and the uniqueness of the textiles influenced by the natural surrounding. I was captivated and convinced that I wanted to study the history of textiles and further my skills in the multiple processes that textile design provides. I had found my passion.
I received my M.F.A from Rhode Island School of Design, Textile Design. I was told that working on one's thesis project is the most grueling task of graduate studies. But instead, I found that I woke up everyday and would think to myself "Today, I get to design and create". I have never regretted my decision to explore textile design and am grateful that it is who I am…a Textile Artist/Designer who gets to share my passion with others.
Research Detail:
Focused on creating innovative embroidery sans a substrate to allow the new material to become sculptural. Also researching sustainability focused on discarded textiles samples to create objects of art.