By
Anonymous (not verified)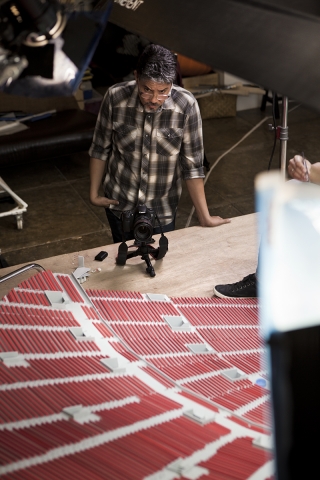 The Lamar Dodd School of Art and Franklin College of Arts and Sciences are pleased to announce that the Dodd Chair will be held by the groundbreaking artist Paul Pfeiffer beginning in spring semester of 2016.
Pfeiffer's work in the mediums of sculpture, photography, and video often derives from readymade photographs and television footage, which he transforms in an effort to inspire contemplation of the role played by mass-media in contemporary culture. Often integrating monumental and miniature scales, his painstakingly crafted works inspire uncanny perceptual phenomena,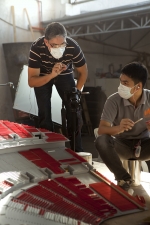 challenging viewers to look again at familiar objects and images. Absences and omissions are strategically deployed in his work, leaving the viewer to contemplate forces that are palpable but invisible. Drawing on a wide range of imagery and culling ideas from a variety of academic disciplines, Pfeiffer synthesizes sports, cinema, labor, science, and psychoanalytic theory, offering profound insights into the nature of representation within contemporary media environments.
Paul Pfeiffer has an MFA from Hunter College, a BFA from San Francisco Art Institute, and attended the Whitney Independent Study Program. His solo exhibitions include The Whitney Museum of American Art in New York (2001), the Hammer Museum in Los Angeles (2001), the Barbican Art Centre in London (2001), Massachusetts Institute of Technology's List Visual Arts Center in Cambridge, MA (2003) The Museum of Contemporary Art in Chicago (2003), The Contemporary Museum in Honolulu (2003), Gagosian Gallery in New York (2004), The Middlebury College Museum of Art in Middlebury, VT (2005), the University of Iowa Museum of Art in Iowa City, IA (2007), Thyssen Bornemisza Art Contemporary at Kunstzone Karlsplatz Technische Universität in Vienna, Austria (2008), MUSAC – Museo de Arte Contemporáneo de Castilla y León, Léon, Spain (2008), Nationalgalerie im Hamburger Bahnhof – Museum für Gegenwart, Berlin (2009), Paula Cooper Gallery in New York (2012), The Blanton Museum of Art in Austin, TX (2012) and the The Museum of Contemporary Art and Design in Manlia, Phillipines (2015). His work is included in the collections of the Guggenheim Museum, New York and the Hirshhorn Museum and Sculpture Garden, Washington D.C. among other institutions.
Pfeiffer will be in-residence as the Dodd Chair beginning spring semester of 2016 and continuing through spring of 2018. During this time, he will work with students of sports journalism in the Grady School of Journalism and the art students at the Lamar Dodd School of Art. Pfeiffer will have a solo exhibition in the Dodd Galleries opening in spring of 2016. His Dodd Chair lecture, which is open to the public, is scheduled for Thursday, February 18th, 2016 at 5:30pm in S151 at the main art building.