Location:
5:00 pm Dodd Auditorium S150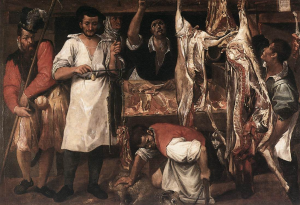 The Association of Graduate Art Students would like to invite you to a lecture by Dr. Gail Feigenbaum of the Getty Research Institute, who will present "Carracci's Butcher's Shop as if it were a Church ".  
Annibale Carracci's Butcher's Shop is--at one and the same time--both as far from a slice of life, and yet, paradoxically, as close to such a thing as had ever been made. Conceived in high ambition for himself, his family, and for his profession of painting, this path -breaking baroque artist responded to history and his critics, creating a manifesto that brings the dead to life.