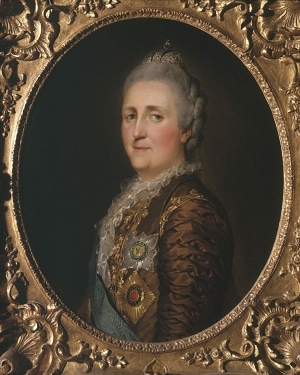 In a one-hour documentary scheduled for broadcast this December, WUGA-TV showcases a current exhibition on Russian art at the Georgia Museum of Art.
In the program, "Two Powerful Women: The Collectors of Russian Art," WUGA-TV news anchor Alexia Ridley guides viewers through works of decorative art that were once commissioned for Catherine the Great's use or given as gifts in her court.
The documentary shares stories behind such centerpiece items as a solid gold chalice decorated with dazzling diamonds and cameos or a famous Wedgwood Green Frog Service. Video recorded in Russia this summer is an exclusive peek at Catherine the Great's museum, the Hermitage, in St. Petersburg.
The documentary also captures music performed at UGA's Performing Arts Center that was once played in the court of Catherine the Great and reveals how she used music to move her political and artistic ambitions forward in the 1700s.
The documentary presents a clear historical picture of the empress and reveals why the exhibition "Exuberance of Meaning: The Art Patronage of Catherine the Great (1762-1796)" is important for both students and art patrons on the UGA campus.
The exhibition features pieces purchased in Russia in the 1930s by Marjorie Merriweather Post, the sole heir to the multimillion-dollar Post Cereal Company. Post's purchases formed Hillwood's Russian collection. The exhibition runs through Jan. 5.
The initial telecast of "Two Powerful Women" is scheduled for Dec. 11 at 9 p.m. with 15 additional broadcasts scheduled at various dates and times during the month. Broadcast details are available at wugatv.org.
"Two Powerful Women" is produced by Melissa Jackson, a producer/director at WUGA-TV, with guidance from Asen Kirin, curator and the exhibition and associate professor of art and associate director of UGA's Lamar Dodd School of Art, along with production support from students in the Grady College of Journalism and Mass Communication.