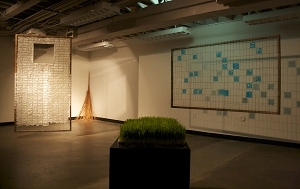 New work in Sculpture
This fall ARST 3400 "Construction in Metal" was taught by Adjunct Instructor LeeAnn Mitchell with Jacob Brault (MFA Sculpture 2014), serving as the practicum graduate student. For their last project the students were challenged with "Site Specific-Site Sensitive". Four of the students chose to collaborate in pairs and two students produced pieces on their own. Three of the four sculptures were placed at various locations on campus with one interior installation at the Thomas Street Art Annex.
"The Vigil", a stunning take on the idea of a mythical winged deer is located at Lake Herrick in Oconee Forrest Park and will remain on loan to the Warnell School of Forestry and Natural Resources. The sculpture was produced by Sam Weaver (B.A.-Spanish, 2013) and Ryan Woods (Junior-Sculpture) and is fabricated mild steel and chrome. The site selection, with an eye towards the changing of the seasons, should prove to make this a popular attraction as viewers 'discover' "The Vigil".
The sculpture, "Regard", was produced by Nicole Oliver (Junior-Fine Arts) and Iris Schaer (Junior-Sculpture). This graceful linear figure references dance and served as the inspiration for the site, which was next to, and in 'regard' to the Dance Building. The sculpture is constructed of mild steel and fabric and was removed on December 9th.
"Fixate III" and was produced by International Exchange Student Adam Stead from the University of Reading in England, Great Britain. Adam's piece is located in front of the Lamar Dodd School of Art and can be viewed from the bridge that crosses Lilly Creek. The sculpture was constructed of mild steel and will be on view through early January 2014. While at UGA Adam focused on the idea of fixation, especially in long distance night driving. This piece also plays on the idea of passage and changes as the water level in the creek rises and falls.
Lisa Harrison (Senior-Sculpture) chose to produce a mixed-media installation entitled "Gear Adrift". She chose the conference room for this quiet tribute to a lost friend. The room was dark but specifically lit and as a major element referenced the idea of a duck blind.
The class wishes to thank Dexter Adams, ASLA, Director of the Grounds Department, Dan Williams of the Warnell School of Forestry and Natural Resources and Chief Jimmy Williamson of the UGA Police Department.