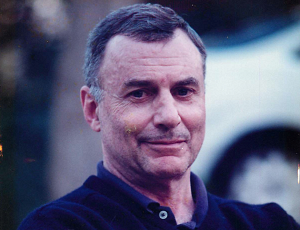 Tom Polk, who taught Art History at the University of Georgia from 1975-2006, beloved by students and colleagues alike, died May 8, 2014 at the age of 73.
He was a brilliant and masterful teacher of Medieval Art and Architecture, Italian Architecture, American Architecture, Twentieth Century Architecture, and the Introductory Art History Honors Course. Indeed, the University named him Outstanding Honors Professor four years in a row, and gave him a special Honoratus Award in 1991. Franklin College recognized his talents earlier with the Sandy Beaver Excellence in Teaching Award in 1986. Tom devoted his considerable energies to his students whether majors, non-majors, Foundation Fellows, graduate students, or docents at the GMOA. He transferred his passion for art history to his students by engaging them in detailed formal analyses that intricately intertwined with iconographic, cultural, and historical meanings. Famous for his writing intensive assignments, especially the daily four sentence summary, Tom believed in the integral role of writing in the learning process even before the institution of the WIP program at UGA, and then he served as an Advisory Committee member from 1997-2002. Many students considered Tom's classes their most challenging but also their most rewarding, and named him their favorite professor.
As Area Chair for fifteen years, Tom shaped the Art History program profoundly, hiring professors who under his inspiration would be as dedicated to the art of teaching as to art history scholarship, understanding as he did that teaching and research were inseparable. Tom's own research stemmed from his graduate work at Pennsylvania State University where he earned a Master's and Ph.d in Art History, later publishing the topic of his dissertation, Saint-Denis, Noyon and the Early Gothic Choir: Methodological Considerations for the History of Early Gothic Architecture. His interests were wide-ranging for he published and presented papers and lectures on the iconography of Chartres, on the art of Piero della Francesca, Pietro Lorenzetti, Fra Angelico, Louis Sullivan, and even Matisse. Tom taught in Cortona, Italy and Avignon, France. He loved classical music, great literature, especially Proust, sports cars, motorcycles, athletics, and witty remarks. Most of all, he loved his wife, Gail and his sons, Jonathan and Michael.  He left an extraordinary legacy with the thousands of students he taught so consummately.
A service will be held for Tom Polk Friday May 16 at 1 pm at Convenant Presbyterian Church, 1065 Gaines School Rd., Athens.  In lieu of flowers, donations can be made to the UGA Foundation, Art History Fund with memo line, "in memory of Tom Polk."  Send checks to the UGA Foundation, 394 South Milledge Avenue, Athens GA 30602.