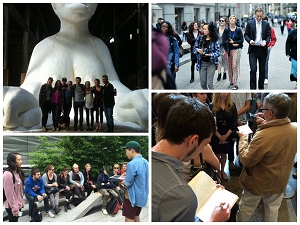 Lamar Dodd School of Art students take part in first-ever UGA field study in contemporary art
30 Lamar Dodd School of Art students recently returned from New York City where they spent three weeks during the 2014 Maymester. The experience was a field study short course (May 13- June 4) taught by a team of UGA art faculty members – Isabelle Loring Wallace, Mary Hallam Pearse and Marni Shindelman. For 25 undergraduate and five graduate students, the experience was an opportunity to immerse in one of the center of the contemporary art world.
"New York is an important part of the professional scene, and whether you live there or not, knowing what is going on there is important for understanding the art business," said Shindelman, a lecturer in photography who regularly shows in New York and internationally.
The UGA field study in contemporary art, a trial Maymester experience developed by the faculty team, involved a combination of classroom lectures, museum and gallery visits, and studio tours of working artists from Chelsea to Bushwick. The group used classroom space in the United Photo Industries gallery in Brooklyn, meeting every morning for an art history course taught by Wallace. The students then split into separate classes with Pearse on design or Shindelman, who concentrated on contemporary conceptual art.
"Our discussions were all about work and connecting that to professional practice," Shindelman said. Pearse and her group visited the International Contemporary Furniture Fair, an annual platform for global design, as well as the headquarters for the international online marketplace Etsy.com.
"It was incredibly exciting to see what happens when students were asked to examine the connections between their studies and life outside the classroom," said Pearse, associate professor in jewelry and metals and graduate coordinator in the school of art. This expanded context for learning and the exposure to diverse creative opportunities contributed to a truly meaningful learning experience for all of us."
New York City is also replete with UGA alumni and the campus contingent enjoyed many opportunities to meet and interact with artists and others with Georgia connections. These included a private tour of the Museum of Modern Art, a reception hosted by LDSOA Board of Visitors member Patty Brundage at the Nancy Hoffman Gallery that also honored new director of the school of art, Chris Garvin.
Students on the trip represented every area of studio art at UGA, as well as art education and art history, several of whom were visiting New York City for the very first time. From seeing great art to navigating the streets and the subway, this Maymester experience offered a taste of the complete sensory experience that New York can be,
 
"There's no doubt that New York City offers advantages that the traditional classroom cannot, and the point of this program was to make the most of being in a city with incomparable museums, galleries, and artists," said Wallace, associate professor of contemporary art and area chair of art history. "We returned home tired and with heads spinning, but also undeniably energized by the knowledge that so many artists and intellectuals are dedicated -- with stunning, often provocative results -- to the practice of contemporary art and design."
A postcard show documenting the students' Maymester NYC experience will be on view in the Atrium Gallery of the school of art from August 18 through September 3.