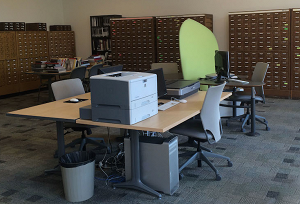 Visual Resources Center has expanded hours and a new website!
The Visual Resources Center (VRC) is an instructional support unit and digital projects lab that serves faculty and students in the Lamar Dodd School of Art at the University of Georgia. The VRC houses and maintains media collections and equipment relevant to teaching, research, and creative work in the visual arts, and provides access to workspace areas and computer stations equipped with scanners and imaging software.
The VRC has expanded its hours and is open Monday-Thursday 8 AM – 9 PM and Friday 8 AM – 5 PM.
Information about the VRC can be found on its website at vrc.uga.edu.