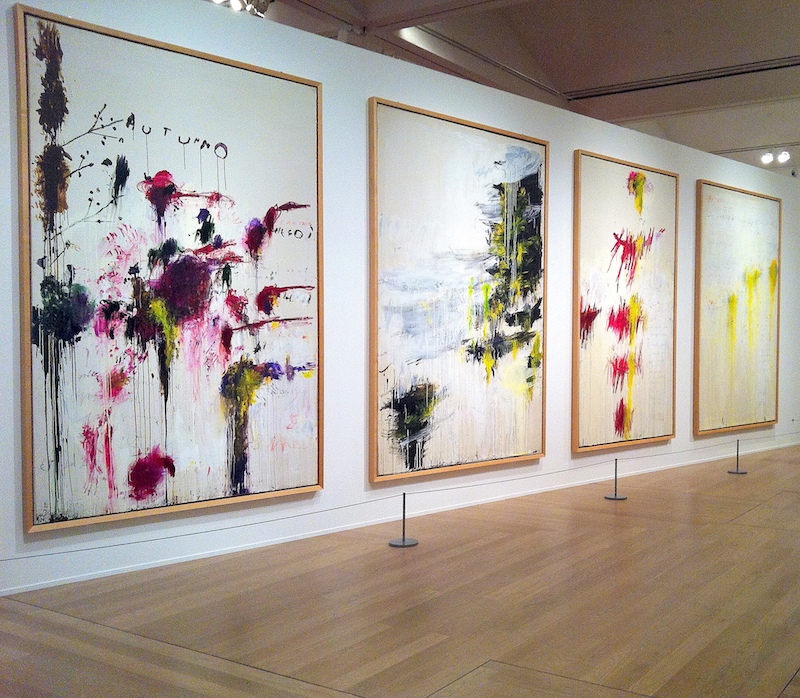 Linnea West is a writer, art blogger, and Athens native pursuing a master's in art history at the University of Georgia. She is also a participant in BURNAWAY's Emerging Art Writers Mentorship Program. 
"Linnea West wrote this essay for the fifth session of our Emerging Art Writers Mentorship Program. The session was led by Chuck Reese, co-founder and editor of the Bitter Southerner, and was titled "Where Does Your Work Come From?" He asked the mentees to reflect on what compels them to write, and specifically to write about art. 
Featured photo: Cy Twombly's series of paintings Le Quattro Stagioni (The Four Seasons).
There was a specific moment when I fell in love with contemporary art; I was 19, a prime age for falling in love, as I would discover, and on a study abroad program in England. One weekend, some other students and I visited London. Along with sites like Parliament and Big Ben, we visited the Tate Modern, not so much because it was an art museum as because it was something for tourists to see and do. Vaguely, I remember walking through the galleries feeling like I was in a dream, as if I could stay there forever, or at least the day, and never need to eat or drink again, so transfixed was I with what was probably my first glimpse of great modern and contemporary art. After all, I was a young bookworm from a town in Georgia in my second semester of college, abroad as an adult for the first time. My eyes were opening to the wider world all around me, and with all the intensity of first love... "
Full article on Burnaway here: www.burnaway.org/feature/cy-twombly-everlasting .