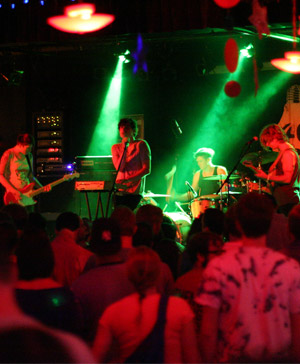 Climate and Local Media
Athens is sheltered from most extreme winter weather with a January mean temperature of 43 degrees F and 80 degrees F in July. It's a short drive from the Athens area to the north Georgia foothills; less than an hour-and-a-half to Springer mountain, GA, the start of the Appalachian trail; and less than three hours to Asheville, NC.
Athens is served by a daily Athens Banner Herald newspaper, an independent student newspaper, The Red and Black, and the independent local weekly, the Flagpole Additionally, six local radio stations serve the area that include the University's student-run college radio WUOG-FM and local NPR affiliate WUGA- FM. Two award-winning hospitals offer comprehensive health care to Athens.
---
Local Arts and Related Venues
A variety of events, performances, and activities are held throughout the year in town and at the University. For general information about campus events, check out the UGA master calendar. Find more information on concerts sponsored by the Hugh Hodgson School of Music and the UGA Performing Arts Center, performances presented by the University Theater, or current exhibits at the Georgia Museum of Art, which is adjacent to the Lamar Dodd School of Art on east campus. Located in downtown Athens, local art house theatre Ciné features a wide array of independent, small budget and foreign films. The downtown Classic Center hosts a wide range of events from the Atlanta Symphony and touring Broadway shows to local Roller Derby meets and all of UGA's club ice hockey team games.