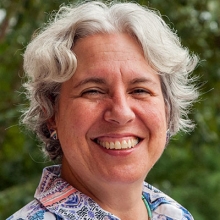 Location:
N322, Lamar Dodd School of Art
Dr. Janice Simon is Josiah Meigs Distinguished Teaching Associate Professor of Art History in the Lamar Dodd School of Art where she has taught since 1988. She received her MA and Ph.D. (with Great Distinction) in Art History from the University of Michigan. She graduated from SUNY/Buffalo (her home town) summa cum laude with a B.A. in Art History. Her dissertation "The Crayon (1855-1861): The Voice of Nature in Criticism, Poetry and the Fine Arts," still stands as the most important and comprehensive study of America's premier art journal of the antebellum period. She has published as well on the 1870s New York art journal, The Aldine, as well as the role of periodicals in art criticism. In 2010 she served as guest editor for an issue of American Periodicals on "American Periodicals and Visual Culture," One of her current book projects is "The Crayon (1855-1861), The New Path (1864) and The Aldine (1868-1879):  Nature as Idea and Image in the American Art Periodical Before and After the Civil War." A specialist in American art, especially landscape painting and photography and its connections with transcendentalism and environmentalism, she was guest curator and principal author of Images of Contentment: John Frederick Kensett and the Connecticut Shore (Mattatuck Museum 2001), and has written essays on the image of the forest interior in American art. Recipient of many University teaching awards including the Richard Russell Outstanding Undergraduate Teaching Award in its inaugural year of 1992, the National Panhellenic Council's "Outstanding Professor Award" of 2008, and the University's highest teaching distinction, the Meigs Professorship in 2006.  Her teaching interests span not only American art from the 18thC through mid 20thC, but also European modernism and spirituality, modernist photography in America and Europe, the depiction of modern artists in film, and the filmic art of Alfred Hitchcock.  
Research Detail:
American Art, painting and photography, of the 19th and 20th centuries with special emphases on landscape imagery, environmentalism, transcendentalist correspondences. American art criticism and the formation of art periodicals in the 19thC, as well as visual culture and the American Periodical of the 19th and early 20thC. Also works on 19thC American genre painting and its connections with economic, social, and political conflicts. Recently examining filmmaker Alfred Hitchcock's use of art and art historical references.