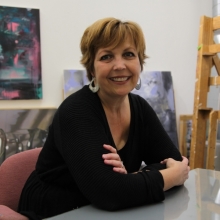 Position:
Associate Professor of Art
Area Chair for Painting and Drawing
Location:
S386, Lamar Dodd School of Art
Morrison received her MFA from the University of Utah in 1986 and has been represented by the Woodward Gallery in New York City since 1994.  She has had numerous solo and group exhibitions in New York City and has been featured in the New York Times, ARTnews, Art & Antiques, M Magazine, Smithsonian Magazine, Florida Design, Juxtapoz, Aesthetica Magazine International, Pinch Magazine, Agave Magazine and the Georgia Review, to name a few.  In addition, her work can be found in many international collections.  Morrison has exhibited in museums and institutions around the world; such as, the Georgia Museum of Art, the Rockefeller Museum-Art Gallery In New York, YAM Contemporary Museum in Montana, and the Annmarie Sculpture Garden and Art Center, an affiliate of the Smithsonian Institution, just outside of Washington D.C.  Morrison's work was featured in the historic Four Seasons Restaurant in the Seagram Building and at the prestigious ICM/International Creative Management Talent Agency in New York City.  In 2012, the US Department of State Art in Embassies Program director invited Morrison to display her painting, "Cat's Eyes" in the Ambassador's residence in Tel Aviv, Israel.  From 2012 -2015, Margaret's painting became the backdrop for visiting dignitaries from all over the world, such as Prime Minister of Israel Benjamin Netanyahu, former Prime Minister, Shimon Perez, and US Supreme Court Justice, Elena Kagan.
Research Detail:
Figurative art, fluidity of identity, the uncanny valley, surveillance and voyeurism, spectatorship, elevation of the mundane, fractured narrative, transparency and translucency, spatiality, fictionalized space, reframing and reorganization of memories, semiotic dissonance