Location:
12:00pm Dodd Visual Resource Center, Rm N201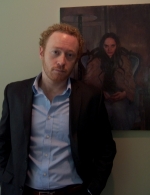 Dodd Dialogues is a speaker series that is being launched to help current students explore their academic pathways and career options leading up to and following graduation. By connecting students early on with alumni in their careers, students are better able to picture and establish their own personal goals, forging ahead in their own career paths.
We are excited to kick off our first Dodd Dialogue speaker with Richard T. Scott, who graduated with this BFA in painting in 2005.  He is a figurative painter and writer working in New York and Paris. Known for his emotionally charged classical painting, Richard's work borders between realism, romanticism, and often concern philosophical questions and alternative parallel narratives to biblical stories, myths, and literature. (Visit Scott's Website here.)
Dodd Dialogues
Richard T. Scott
April 13, 2016
12:00 p.m.
Visual Resource Center, 2nd Floor in Dodd
Lunch provided (Pizza and Soda)