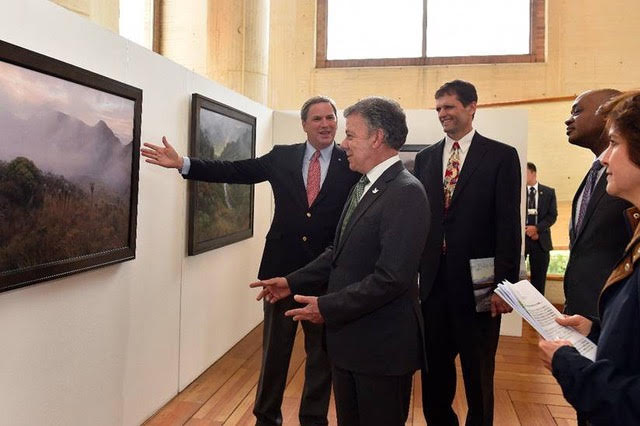 President of Colombia Juan Manuel Santos on tour of Landscapes of Chingaza
Alumnus Philip Juras recently opened an exhibition of paintings, Landscapes of Chingaza, that celebrate the 40th anniversary of Chingaza National Park, Colombia. Landscapes of Chingaza is on view at the Biblioteca Virgilio Barco in Bogotá, Colombia until September 2017. Juras attended the opening of the exhibition and toured it with President of Colombia Juan Manuel Santos.
The Franklin Chronicles, a website of the UGA Franklin College of Arts and Sciences, notes the artist's interest in nature and conservation, writing that his work "presents a unique and comprehensive artistic representation of this Andean ecosystem." Juras says of the exhibition: "I really am lucky to be doing this job—mixing art and conservation." The artist received a BFA in Drawing & Painting in 1990 and a Master of Landscape Architecture in 1997 from the University of Georgia.
View more images of these lush oil paintings of Chingaza National Park on Juras's website.
Laguna Seca, Chingaza National Park, Colombia, 2015. Oil on canvas