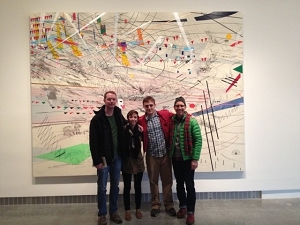 Painting & Drawing Grads recently traveled to Richmond, Virginia and Art Ed PhD Students will travel to New Orleans in the spring.
Four Painting & Drawing grads recently traveled to Richmond, Virginia on a travel grant to transport work for the dual exhibition "Southern Hospitality" at the FAB VCUarts Gallery at Virginia Commonwealth University. The exhibition features the work of Michael Benedetti, Patrick Brien, Joe Camoosa, Ellie Dent, Heather Foster, Shuk Han Lui, Andrew Indelicato, Allan Innman, Mahera Khaleque, Tyler Leslie, Ariel Lockshaw, Jess Machacek, Drema Montgomery, Michael Ross, and Spence Townsend.  
Concurrently, the VCU Painting and Printmaking graduate program will be exhibiting work in Lamar Dodd's Glass Gallery located in the graduate Painting & Drawing studios.  Artists include:  Saulat Ajmal, Jake Reller, Devin Harclerode, Lee Piechocki, Jason Rood, Matthew Yaeger, Annie Albagli, Bea Modisett, Kristen Sanders, Eric Diehl, William Matheson, Harris Johnson, Grace Weaver, and Carolina Aranibar-Fernandez​.  Exhibition dates are Monday, February 02 – Saturday, February 21, 2015.
 
Two of our Art Education PhD students have been approved for travel grants from the Graduate School. Leslie Rech and Rebecca Williams will be presenting at the National Art Education Association National Conference in New Orleans this March. Leslie will present "Emergent Aesthetics: Text and Image in Arts Based Research." Rebecca will present "Being With and Being There: Designing Wide-Awake Learning Experiences."