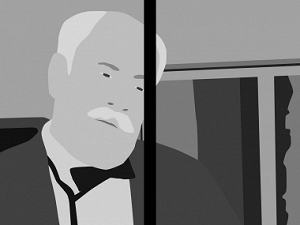 March 20 / 7PM. Help us inaugurate the Slingshot 2014 Festival with food, drink, and of course art! 
Throughout the weekend Slingshot will feature innovative music, art, and tech from artists from around the globe. To get the festival going, LDSOA Galleries and the Georgia Museum of Art will be showing new exhibitions by some of the most innovative artists working in art and technology today. In Gallery 101 we'll be featuring a new work by Professorial Dodd Chair, Kota Ezawa. This in-process animation takes inspiration from the famous documentary Painters Painting, examining a conversation with Abstract Expressionist painter Barnett Newman.
Across the way at the Georgia Museum of Art, artist and composer Tristan Perich's Machine Drawing will occupy a 60-foot wall on the museum's Patsy Dudley Pate Balcony and will create itself over the course of its 6-month installation. In the Alonzo and Vallye Dudley Gallery, London artist Quayola presents Strata #4 a multi-channel immersive video installation commissioned by the Palais de Beaux Arts in Lille. The subject of the work is a series of iconic pieces from the Palais de Beaux's Flemish collection.
To find out more about Slingshot and programs throughout the weekend visit http://www.slingshotathens.com