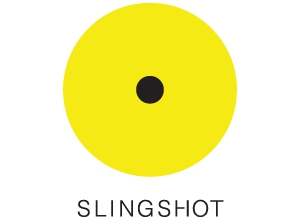 March 19-22, Athens, GA - SLINGSHOT is a new international nexus for music art and technology in Athens, GA.
The Art dimension of SLINGSHOT features 50 visual, sound and new media artists from 20 countries, including Tristan Perich, Quayola, and Dodd Chair Kota Ezawa.  Ezawa's exhibition Onement Two runs March 20 - April 1 in Gallery 101.  LDSOA Alumni are exhibiting in venues in downtown Athens alongside leading and emerging artists from around the world.  Art venues include the Georgia Museum of Art, Ciné, the new Creature Comforts Brewery, and outdoor container galleries designed by Cult Cargo.  The Kick-off Party takes place at the Lamar Dodd School of Art and the Georgia Museum, Thursday 3/20, 7-9pm, with music, food and exhibition openings of Ezawa, Perich and Quayola.
The Music rubric of SLINGSHOT brings in top music acts, including Kishi Bashi, Tinariwen, Washed Out, dozens more indy music acts, plus experimental, electronic, and electroacoustic music and soundscapes from around the world.  The Tech dimension of slingshot features leading figures in arts technology presenting on stage at the Morton Theatre, plus demonstrations and a hackathon.
SLINGSHOT is produced in partnership with the Lamar Dodd School of Art, Georgia Museum of Art, Willson Center for Humanities and Arts, UGA College of Engineering and the Athens Music Project. Festival passes are now available allowing entry to all music, art and tech events for $25.  Free events include TechSHOTS at the Morton Theatre, outdoor art exhibitions downtown, and the Kick-off Art Party.  Full details online at www.slingshotathens.com.