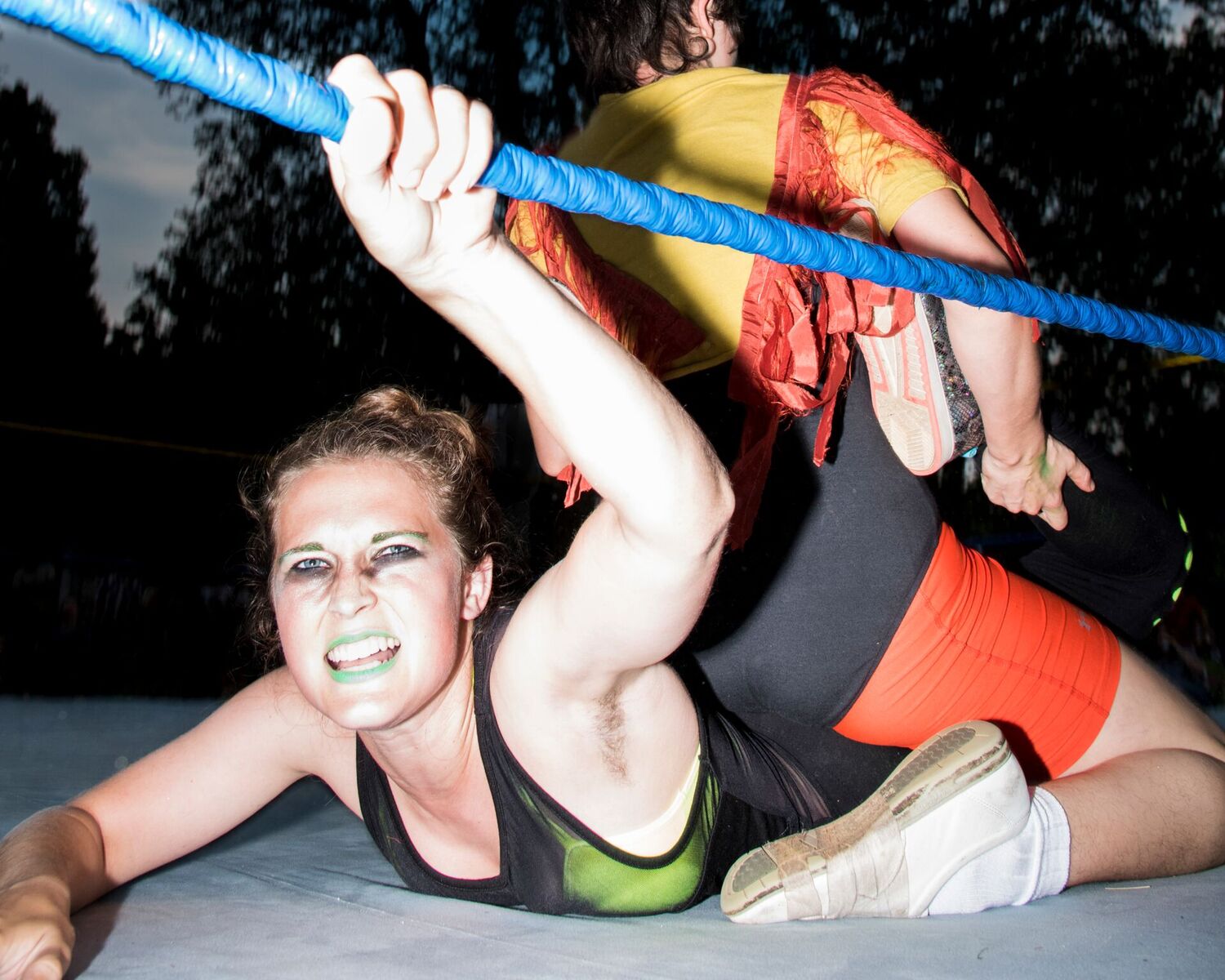 sumHER Slam, August 26, 2017. Photo by MFA Candidate Will Major. 
On the evening of Saturday, August 26, 2017, a group of art and wrestling enthusiasts gathered in an Athens field for a night of open-air wrestling organized by School of Art MFA Candidate Kaleena Stasiak. sumHER Slam, a performative evening of women's wrestling, featured several graduate students from the School as well as a diverse local community of artists and supporters. Among them, Dodd alumnae Megan Burchett and Courtney McCracken and current MFA students Catherine Clements, Ali Norman, and Stasiak inhabited outrageous alter-egos while participating in a series of wrestling matches.
With the help of current and former School of Art students acting as ring boys, referees, social media strategists, and photographers, the following wrestlers were paired in a series of bouts:
Kate Bundy (Lecturer of Spanish at the University of North Georgia and doctoral student in UGA's department of Romance Languages) as Amazona Prime
Megan Burchett (MFA alumna in Printmaking + Book Arts, 2017) as Tumbleweave
Catherine Clements (current MFA student in Printmaking + Book Arts) as Fireball
Alyss Donnelly (UGA Master of Social Work student) as Dominia Diamond
Katie McCollum (Forestry Technician at UGA) as Marie Fury
Courtney McCracken (MFA alumna in Sculpture, 2016) as Jucifer
Ali Norman (current MFA student in Printmaking + Book Arts) as Dragon Yer Ass
Jessica Roberts (Academic Advisor at UGA and doctoral student in UGA's department of English) as Joan of Snark
Lauren Roland (current Master in Clinical Exercise Physiology student at UGA) as Catherine Crusader
Kaleena Stasiak (current MFA student in Printmaking + Book Arts) as Mrs. Robinson
See more images and video here.
Stasiak describes the goals of the event as promoting empowerment, gender equity, and community. The all-female cast of characters who took to the ring borrowed hyper-masculine tropes from the world of professional wrestling. The scripted role play, language, and elaborate costumes shared the absurdity often displayed in professional wrestling, and in doing so cast a humorous and optimistic light about the potential for women to possess space and sport traditionally dominated by men.
Participants in sumHER Slam are members of the art collective South East Women Wrestlers (SEWW). SEWW was inspired by the League of Lady Wrestlers that originated in Dawson City, Canada. Locals from the Athens community who share an interest in wrestling and the use of spectacle to subvert patriarchal oppression and the male gaze are participants. SEWW offers a body-positive space where fantasy alter egos can be constructed, cultivated, and performed. SEWW can be followed on Facebook and Instagram.
Organizer Kaleena Stasiak currently has work in the Lyndon House exhibition The Game Show, on view until October 17, 2017 and complimented by a participatory "Field Day at Night" event on September 21, 2017.
Promotional image for sumHER Slam, South East Women Wrestlers

sumHER Slam, August 26, 2017. Photo by Will Major

 

Promotional poster for sumHER Slam, South East Women Wrestlers