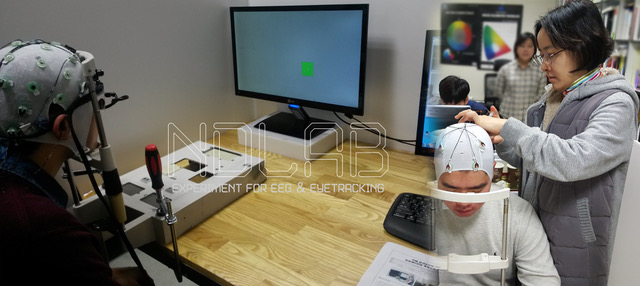 Kim conducting research on a neuro-design mechanism that involves eye-tracking and EEG (electroencephalogram)
This year, the Lamar Dodd School of Art is hosting a scholar in residence for the first time. Dr. Ju Yeon Kim comes to the School from Seoul, Korea where she is an associate professor of Interior Architectural Design at Soongsil University. During her time in residence, she will conduct research with Dr. Jain Kwon, assistant professor of Interior Design. Kim and Kwon are investigating neuro-phenomenological approaches to affective perception in built environments. Neuro-phenomenology is a relatively new field. It combines neuroscience with phenomenology in order to study experience and consciousness.
ABOVE IMAGE: Kim conducting research on a neuro-design mechanism that involves eye-tracking and EEG (electroencephalogram)
Dr. Kim's research is funded by the Korean Government and National Research Foundation. Kim's past research has focused on human senses, perception, and the usability of spatial elements. She has developed environmental research methods adopting emotional engineering and smart interface technologies. Kim has conducted a number of projects funded by the Korean government, including the following ongoing projects:
A Development of Virtual Reality Application Model Based on the Neuro Sensing Measurement Technology
Development of a Neuro Design Mechanism Through Convergence of Eye-tracking and EEG (electroencephalogram)
Study on Intergenerational Home Share and Development of an Intergenerational Living Manual to Popularize this Form of Housing in Aged Society
Kim received her PhD in Housing and Interior Design from Yonsei University after earning an MFA from New York School of Interior Design and a BFA in Industrial Design from Chung-Ang University. She was awarded the 2011 Design and Planning Award from the Korea Ministry of Culture, Sports, and Tourism with a project focused on elementary school design. Prior to joining the faculty of Soongsil University, Kim directed In-Between Wall Design Lab from 2004 to 2010. She also worked at Steven-Kratchman Architect, Yves-Claude Design, and Samsung Electronics.
The School of Art is pleased to welcome Dr. Kim for this year of research and collaboration! 
Dr. Ju Yeon Kim