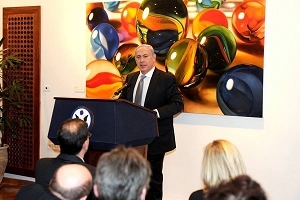 Margaret Morrison's painting
"Cat's Eyes"
2011
Oil on Canvas 48" x  90"
In December, 2011,  Margaret was contacted by Camille Benton, the Curator for the Art in Embassies Program run through the US Department of State.  The newly appointed US Ambassador to Israel, Daniel Shapiro, personally requested to have her work, "Cat's Eyes," hang in the official US embassy residence in Tel Aviv.
Recently, Julie Fisher, the ambassador's wife, wrote to thank Margaret for the painting and sent the pictures.  This is a quote from her letter:
"I want to thank you from the bottom of our hearts for lending your gorgeous painting, Cat's Eyes, to us to help us represent America as we serve overseas in US Embassy Tel Aviv.
We have enjoyed having Cat's Eyes at our official residence here in Tel Aviv. In fact, more than just enjoying it, your magnificent painting has been the backdrop of every event we have hosted in our 3 years here.  It is featured behind each speaker who gives a lecture, every panel discussion that has been held, and is the backdrop for photos of all our visitors, both personal and official.  Your painting is the star of our exhibit and the one painting that everyone notices and adores! People arrive at our door and request a "marble picture."  
"Cat Eyes" painting featured at the US Embassy in Tel Aviv with Prime Minister of Israel Benjamin Netanyahu.