By
Anonymous (not verified)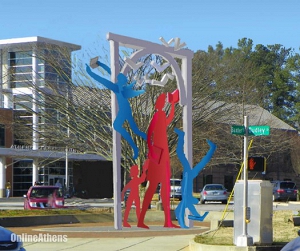 Robert Clements' "The Muse of Learning" will greet visitors to Athens Public Library.
UGA Emeritus Professor of Art Robert Clements has been selected to build a 15' high metal sculpture for the new Athens Clarke County Library's plaza. Clements, a Sandy Beaver Teaching professor, says that during his 15 years at UGA, he had the best job in the world, teaching art appreciation to bright young Georgians, showing them examples of the world's finest art.
The Athens Cultural Affairs Commission selected the plaza and wall at the corner of Baxter and Dudley Streets as the site for new public art, a gateway for the newly renovated Athens-Clarke Public Library.
Clements' sculpture presents four figures: a mother reading, a child toting books, a teen doing acrobatics while flipping through a book and a mythical figure, "The Muse of Learning," a winged person holding a laptop whose implied movement guides people into the library. White "book-birds," representing the ideas that can come from books, float above the figures, according to Clements' artist statement.