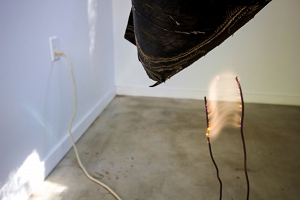 Cogan presents as part of the "MANIFESTA" group exhibition
CHRIS COGAN AT KRANENBURGH MUSEUM HOLLAND: "MANIFESTA"
Art X Instructor Chris Cogan will present a new sculptural installation at the Kranenburgh Museum in Bergen Noord, Holland as part of the "MANIFESTA" group exhibition. The exhibition is curated by Dutch artist Folkert de Jong, who will also participate in the show. "MANIFESTA" opens May 3rd and continues through September 2015.  Other artists include: The Wooster Group USA, Delphine Courtillot NL, Pierre Tol NL, Pere Llobera SP, RAAAF Architecten NL, and others. Cogan's installation of various materials will be suspended above a lethal, high-voltage electrical arc. A security wall will be installed to protect the public from electric shock. 
The Kranenburg Museum is located in the woods on the site of a 17th century Villa in Bergen Noord, Holland. The museum has a permanent collection of paintings and graphic art from the 19th century Bergen School. Surrounding the museum is a collection of public sculptures in dialogue with the landscape. Visit www.kranenburgh.nl for more information.
Christopher Cogan is a multi-media artist who lives and works in Athens GA. His work has been presented in numerous exhibitions internationally. Recent exhibitions include: Galerie Fons Welters Amsterdam, Middelheim Museum Antwerp, "Xcentric" CCCB Barcelona, 1646 Gallery Den Hague, and the 2011 Leeds Film Festival. Cogan is represented by Light Cone, Paris and Canyon Cinema, San Francisco. He currently teaches experimental media in the Art X Department at the University of Georgia.