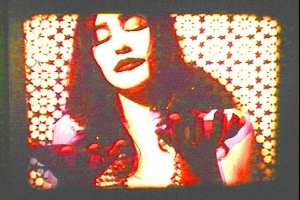 Art X Instructor Chris Cogan will show his latest 16mm film: "NO MOON" at the Internationale Kurtzfilmtage Oberhausen, Germany in May.
Cogan's work will be presented by Light Cone, Paris at the Lichtburg Film Palast.
About the Oberhausen Festival: 
For over 50 years the Oberhausen Festival has been one of the most important film institutions in the world which serves as a catalyst and showcase for contemporary works. Filmmakers ranging from George Lucas to Roman Polanski have shown their first films at the Oberhausen Festival.
About the film:
"NO MOON" presents altered states of mind through the experience of several entities and actions. Ritualistic transformation of materials brings further levels of hallucination. What is not seen carries these actions and entities to a place of absolute delirium.
Christopher Cogan is a multi-media artist who lives and works in Athens GA.  His films and installations have been presented in numerous exhibitions internationally. He has worked extensively in the visual arts in France and America for over two decades. Recent exhibitions include: Galerie Fons Welters  Amsterdam, Middelheim Museum Antwerp, "Xcentric" CCCB Barcelona, 1646 Gallery Den Hague, and the 2011 Leeds Film Festival. Cogan is represented by Light Cone, Paris and Canyon Cinema, San Francisco. He will present a new sculptural installation at the Kranenburgh Museum Bergen Noord, Holland in May 2015. He currently teaches experimental media in the Art X Department at the University of Georgia.