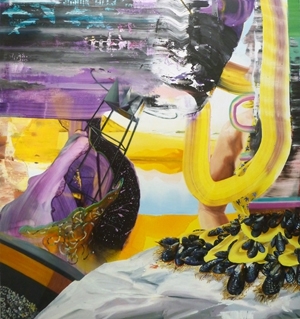 Solo Exhibition, Marcia Wood Gallery, September 20 @ 7-10PM
Marcia Wood Gallery is delighted to present Benjamin Britton in his first solo exhibition in the southeast. Britton thinks of  his paintings as journeys and aims for them to make themselves available for further travel on the part of the viewer. He manipulates myriad representational imagery to conjure abstract views that retain a natural feeling of light and space. He is interested in an experience of the senses and providing a certain kind of moment of adventure or wonder that can stand as an allegory for navigating life. About his explosive canvases that are dense with dazzling color and movement Britton says he "plays a kind of brinksmanship with chaos within the conventions of pictorial art."
Britton builds each painting on a specific scenario and gathers imagery around it, including landscapes, photographs, textiles, clothing, literature, maps, decorative objects, abstracted forms of human and animal figures, and more. The spaces he creates are challenging, even chaotic, but their overall effect tends toward the romantic, celebratory, and almost always contains something of the natural world. The use of fabric from clothing stands as a personal identifier of a time and a place in the paintings scenario, as well as carries cultural identification and association with a domestic setting in the midst of what is often an extraordinary or wilderness space.
In his paintings, Britton works with material, abstraction and illusion to achieve pictures with a fluid shifting surface, imagery that is in flux, often difficult to pin down and frequently dissonant. Yet when seen as a whole, all the layers of action and evidence within the single picture plane can "create their own harmony, sounding an optimistic note in the middle of all the fluctuation." Expanding upon the allegory of navigating life as we now know it, Britton's paintings present relationships that are not either/or but often alternate between states and they ask us to accept things being more than one way in order to come to a broader and more useful understanding of their nature - mirroring our contemporary moment wherein we are often challenged to take a more catholic and non-dogmatic view if we wish to gain the fullest perspective.
"Britton's use of color has an intriguing edge, a confident, indissoluble character that carries the chaos with apparent ease." (Holly Myers, LA Times) He also employs color shifting freely over a pattern or form that remains relatively constant as an example of alternating states. The multiple interpretations of the position of layers or planes within the picture is another signifier of a state of flux, as is the broad range of application methods in the making of the painting - marks showing great intention (rendered, cut, etc.), gestures (pours, wipes, etc.) where the material and physics of the application determine the form, and marks made in a contrived way to simulate another form of mark-making.
Recently re-located to Athens from Los Angeles, Britton is Assistant Professor of Drawing and Painting at University of Georgia. He was born in Palo Alto, CA, in 1976, and raised in the Pacific Northwest. Britton received his BFA from the School of Visual Arts in New York City and his MFA from UCLA in 2008. His work has been shown primarily in commercial galleries and alternative spaces in New York and Los Angeles. His work is included in the West Collection, and in 2010 he was awarded a fellowship to attend the J.B. Blunk Residency by the Lucid Art Foundation.