Congratulations to alumna Linnea West, who was recently promoted to Coordinator of the Contemporary & Modern Art Perspectives (C-MAP) Program at the Museum of Modern Art (MoMA) in New York. West graduated from the Lamar Dodd School of Art in 2015 with a Master of Art Degree in Art History with Distinction. Under the direction of Isabelle Wallace she wrote a thesis entitled Memento Park and Skopje 2014: Transition, Monuments, and Memory, which built on previous research in Central and Eastern Europe that she began while a Fulbright Scholar in Budapest in 2012-3.
After graduating with her MA, West moved to New York City and worked as a freelance writer and editor before joining the staff of MoMA in January of 2016. West administers MoMA's global art history research program, Contemporary & Modern Art Perspectives (C-MAP). The three C-MAP research groups, composed of staff from across all the departments of the museum, are committed to the multiyear study of artistic production outside the Western canon. Currently C-MAP is organized into three groups focused on the art of Asia, Central and Eastern Europe, and Latin America respectively. West says:
"Given that my own research considers art from Central and Eastern Europe, it is hugely rewarding to work on a program that similarly values histories that have been lesser known outside their countries of origin."
C-MAP research impacts acquisitions and exhibitions across the Museum in addition to its own programing and publications. West is an Editorial Board Member of post, C-MAP's website devoted to art in a global context, where she contributes to its editorial direction and content production. As a member of the PopRally committee, West helps produce dynamic programs at MoMA including artist collaborations, performances, film screenings, and digital content that encourage new and experimental ways of encountering modern and contemporary art.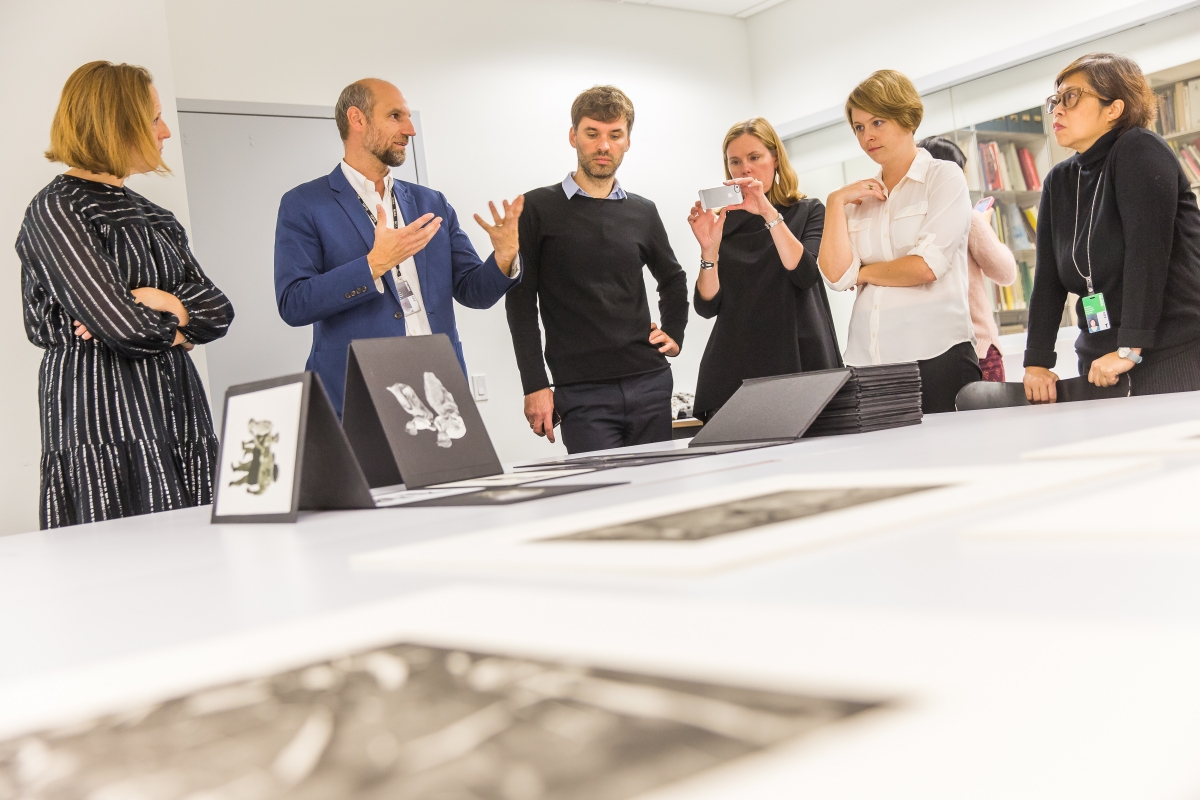 ABOVE IMAGE: Alumna Linnea West; IMAGE: West and colleagues viewing works in the Drawing and Prints Study Center at the Museum of Modern Art
Varied experiences at the School of Art outside of coursework helped prepare her for her current work. During her time at UGA, West shared her scholarship with the School of Art through the Visual Culture Colloquium lecture series, and with wider audiences, such as at the 2014 conference "While Silent, They Speak": Art and Diplomacy Emerging Scholars Symposium at the University of Georgia. West also engaged with the MFA community. In 2014, she co-curated an exhibition of instruction-based art, titled do it UGA, with Art History PhD candidate Brooke Leeton that featured work by current MFA candidates. She also curated the annual exhibition of second-year MFA students at the Madison Museum of Fine Arts in Madison, Georgia in 2014. West says of the program:
"I feel  fortunate to have been supported in my studies by the excellent guidance of the art history faculty at the School of Art. I had freedom to pursue my own research interests. I also really enjoyed connecting with the MFA students and finding ways to develop a curatorial and art writing practice while in the program."
West is a native of Athens who received her undergraduate degree from the University of Georgia as well, earning a Bachelor of Art degree in English in 2006. Of her time at the School of Art, she says:
"I considered several schools when applying to graduate programs in art history. Ultimately I chose to return to the University of Georgia and Athens. I am very happy with that decision. It is not only my hometown, but a stimulating and dynamic place to pursue graduate studies."