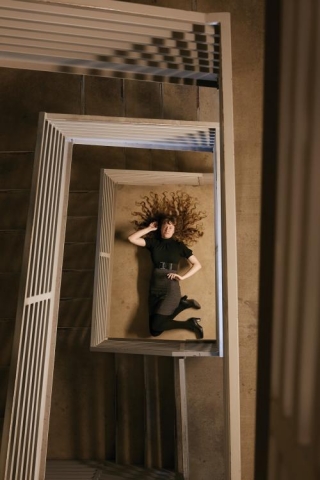 Image: Centerfold of Out of the Dark/Into the Water, 2016
Hannah Batsel (BFA '11, Printmaking and Book Arts) is a shortlist artist for the 2017 Emerging Voices recognition awarded by the American Craft Council. Batsel is featured in the October/November 2017 issue of American Craft Magazine for her work, Out of the Dark/Into the Water. This is a dos-à-dos book published in 2016 which tells a tale of her grandfather, a collector of exotic artifacts obsessed with acquiring items related to the long-defunct Empyreal Trading Co. Through letterpress, offset, and screenprint techniques, Batsel describes the collector's life, preoccupation, and death in 2004, when – as she tells it – Hurricane Ivan washed his beachside Florida home, and his collection, into the sea. Since then, she has begun unearthing objects from the sand where his house stood. 
The American Craft Council established awards in 2015 to recognize and celebrate the talents of remarkable young makers who contribute to craft with their hands, minds, and creative spirits. Jurors Karen Hampton, Jiseon Lee Isbara, Michael Radyk, and T'ai Smith chose from a pool of candidates within five years of significant training.
Batsel completed her MFA in Interdisciplinary Arts in 2016 and concentrated in the Book, Paper, and Print Arts Concentration program at Chicago's Columbia College. She is currently artist-in-residence at the Coffey Residency for Book Arts at the University of Florida George A. Smathers Libraries.
Image: Cover of Out of the Dark/Into the Water, 2016

Image: Centerfold of Out of the Dark/Into the Water, 2016