On February 1, the performance For You will bring together music, sound, video, and installation art in an original composition in the atrium of the Lamar Dodd School of Art. Starting from 6 pm, groups of visitors will be hosted in 20-minute sequences during the 2-hour cyclical performance. For You takes participants on a symbolic journey involving a 16-foot boat, a wooden pavilion, and a room of dancing shadows and projections that deals thematically with the idea of offering and receiving.
This performance piece is the result of a unique new class format and close collaboration. Undergraduate and graduate students in Associate Professor Martijn van Wagtendonk's Thematic Inquiry course at the Lamar Dodd School of Art have taken advantage of an intensive four-week long class structure, which will culminate in this final performance. The class is collaborating with students and faculty from UGA's Hugh Hodgson School of Music to create an original musical arrangement as an integral part of the overall performance.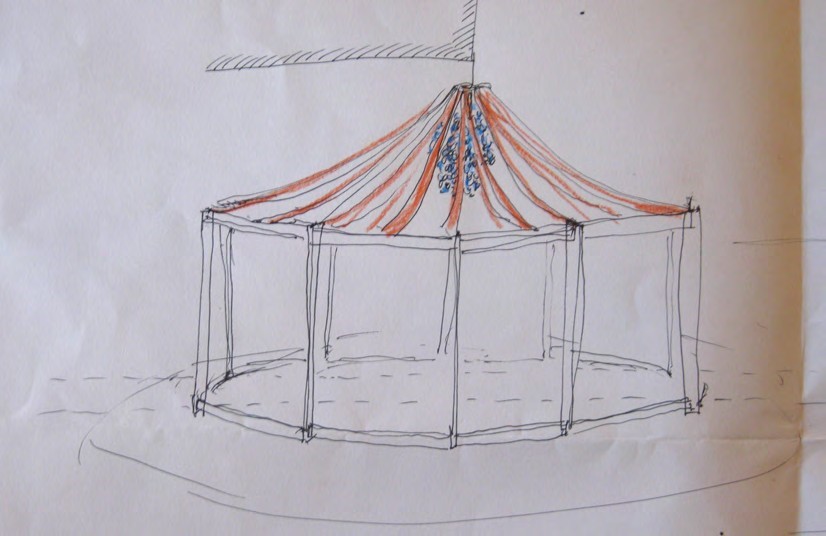 Image: Sketch for pavilion by Martijn van Wagtendonk; Above image: Sketch for boat by Martijn van Wagtendonk
One inspiration for the performance comes from a piano piece called "Für Alina" by the Estonian composer Arvo Pärt. According to Professor van Wagtendonk, " 'Für Alina' was dedicated to a family friend's eighteen-year-old daughter who had just gone to study in London. Its introspection calls to mind a vivid image of youth—off to explore the world. In a very similar way, this performance is called 'for you,' for as I told the students who will be part of creating this work, this work is 'for them.' " It is likewise an offering to the audience.
J. D. Burnett, Associate Director of Choral Activities at the School of Music, together with Graduate Assistant Conductor Philip Reed, have translated the original piano piece "Für Alina" into vocalizations without words, to be performed by the Collegium Musicum, an 20-member student choir. In addition, Timothy Adams Jr., composer and Percussion Area Chair in the School of Music, has written an original composition titled for "For You." A percussion quartet of music students: Taylor Lents, Kamran Mian, Scott Davis, and Keller Steinson, coached by Kimberly Toscano Adams, will perform the piece. Their drums, echoing the old practice of relaying messages through drumming, will initiate each 20-minute cycle of the performance.