Location:
Thomas Street Art Facility, 215 S. Thomas St.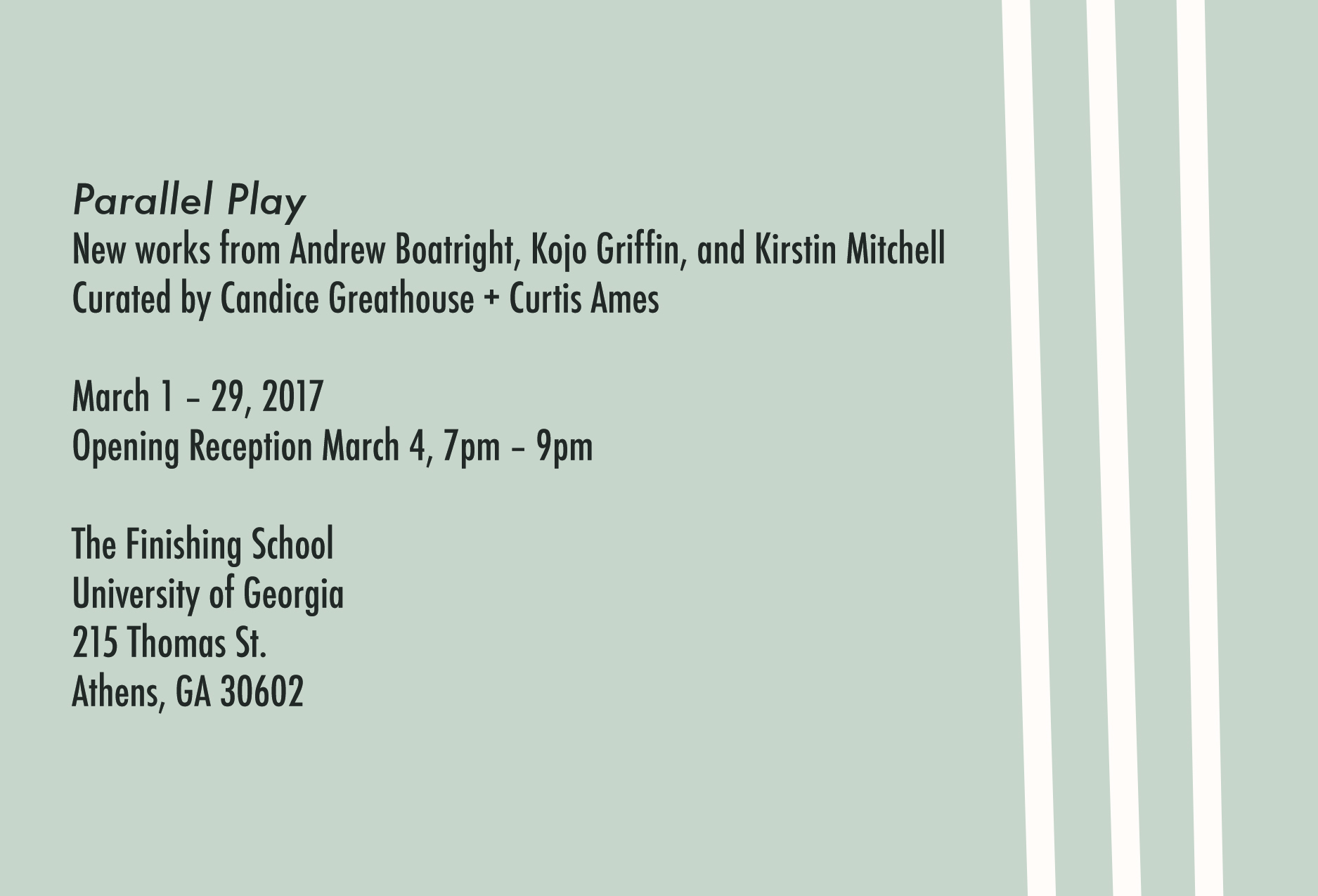 Parallel Play
Opening Reception:
7–9pm, Saturday March 4, 2017
On View:
March 1 – 29, 2017
The Finishing School
Thomas St Art Facility/ 215 S Thomas St 
Right of Warehouse 
New works from Atlanta-based artists Andrew Boatright, Kojo Griffin, and Kirstin Mitchell Curated by Candice Greathouse + Curtis Ames
Hours by appointment only email here.
Parallel Play is the inaugural exhibition of "The Finishing School", a new exhibition space within the Lamar Dodd School of Art directed by Assistant Professor of Art, Mike Calway-Fagen.
Parallel Play, curated by Candice Greathouse and Curtis Ames, features new works from Atlanta artists Andrew Boatright, Kojo Griffin, and Kirstin Mitchell. Each artist operates from a theoretical position in which content, form, and process are informed by trial and error modes of conceptual and material experimentation. Showing each subject position to the other, this exhibition highlights points of commonality and difference between the disparate creative practices of the artists involved.
---
Curator Bios:
Candice Greathouse (b 1984 Columbus, GA) and Curtis Ames (b 1978 Columbus, OH) are visual artists and curators based in Atlanta, GA. Critical dialogues define their collaborative curatorial process with experimental artists, conceptual ideas, and unconventional projects. The artists maintain individual practices in addition to their collaborations.
Curtis Ames finished his BFA at UGA in 2002 and his cv is here: http://www.curtisames.com/cv.html
Candice Greathouse's cv is here: http://www.candicegreathouse.com/cv-1.html
Artist Bios:
Andrew Boatright lives and works in Atlanta. He received his MFA in drawing and painting from Georgia State University in 2013. Boatright has exhibited at Art Aqua Miami, MOCA GA, Twin Kittens Gallery, and the Atlanta Contemporary Art Center. He was recently named a Forward Arts Foundation Emerging Artist Finalist for 2017.
Kojo Griffin, raised in Boston, Massachusetts, currently resides in Atlanta, GA with his wife and three sons in Atlanta. Kojo had several solo exhibitions in the U.S., including two with his former New York gallery Mitchell-Innes & Nash and shown his work extensively in group shows both domestically and worldwide. He has been a visiting artist at several universities including Agnes Scott College, The Massachusetts College of Art & Design, University of Illinois at Chicago and SUNY New Paltz. He was included in the 2000 Whitney Biennial of Art, the 2002 Corcoran Biennial of art, The Freestyle show at The Studio Museum in Harlem and the 2006 Seville Biennial in Seville, Spain. Kojo received his MFA degree in painting and drawing at Georgia State University in 2014.
Kirstin Mitchell is a multi-dimensional artist using performance and installation as a provisional bodily process. Mitchell recently performed at the Atlanta Contemporary in March 2016 as a Dashboard Fellow. Also in 2016, she was awarded an Eyedrum Studio Residency, which received a mention in Art in America. Kirstin has performed with the support of the Franklin Furnace Fund and the Brooklyn International Performance Art Festival. She has shown in galleries and art centers in Atlanta, New Orleans, Manhattan, Brooklyn, and abroad in Vienna, Austria and Northern Italy. Mitchell's work has been reviewed in Art Papers and Flash Art magazines. In a recent interview with artsATL, contributing artist Kristin Mitchell discusses UGA and her work with The Finishing School.