Event Date:
10/12/2017 (All day)
to
10/26/2017 (All day)
Location:
Studio Core Project Space N105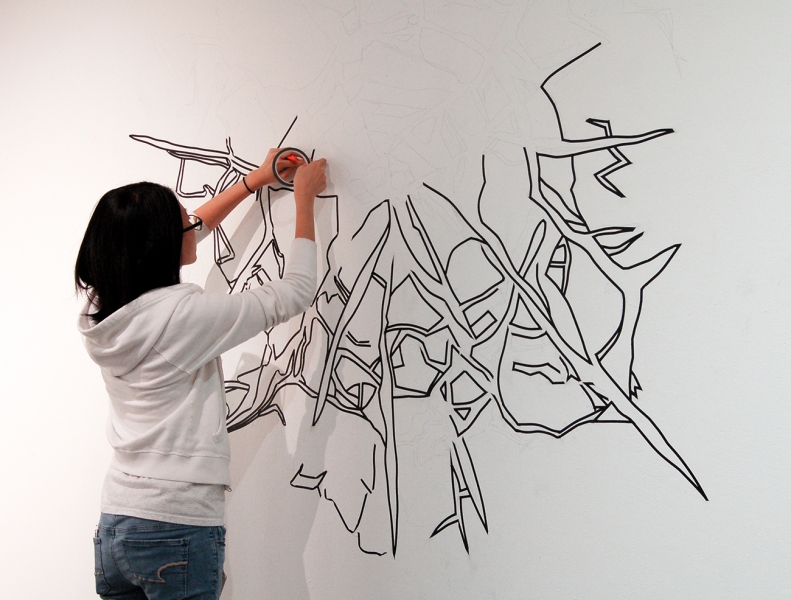 Mirage is a group exhibition by thirty Studio Core Color and Composition students taught by Professor Imi Hwangbo. Working in small collaborative groups, students created large scale drawings in black masking tape on the walls and floor of the Studio Core Project Space.
Artists:
 Landon Bennett, Faith Brooks, Rachel Carlson, Amanda Carneglia, Yeni Cho, Emilie Choi, Jenna Dillingham, Phoebe Graham, Elle Henderson, Abby Hooper, Isabelle Janda, Alexandra Jones, Reid Koski, Anna Levine, Emily Newsome, Cecily Paché, Daley Pajcic, Hunter Peatman, Melanie Quinton, Kirby Retherford, Sydney Ross, Lauren Schuster, Julia Smith, Nicole Smith, Chaeyon Son, Caitlin Stirrup, Karley Welch, Douglas Williamson, Amanda Wooten, Haille Wright
The show is open to the public. Please join us for the opening reception on Thursday, October 12, from 5–7:00 pm.