Location:
Georgia Museum of Art Auditorium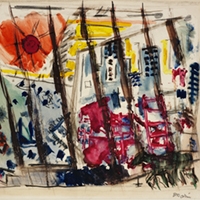 ---
2016 Emerging Scholars Symposium: Modernism Made Monumental
"Modernism Made Monumental" expands the scope of the exhibition Icon of Modernism: Representing the Brooklyn Bridge, 1883–1950 by addressing the broader implications of symbolically saturated constructions in nineteenth- and twentieth-century visual and material culture. Conventional notions of modernization emphasize innovation and progress and seem opposed to monumental commemorations of the past. Yet, monuments also mark inaugural events or cataclysmic changes, and the materials and techniques employed in their making are often wholly original—at times, even scandalous. Contradictions between permanence and ephemerality, tradition and ingenuity, and public and personal can be examined in iconic structures that complicate fixed definitions of both modernity and monumentality. The symposium is co-sponsored by the Association of Graduate Art Students, Georgia Museum of Art and the National Endowment for the Arts. 
---
Schedule
9am
COFFEE AND PASTRIES
9:30 – 11:30 AM
SESSION 1: RENEWED ARCHETYPES
"The Spanish Pavilion at the 1937 Paris World's Fair and the Birth of the New Monumentality"
Giovanna Bassi Cendra, PhD Student in Art History, Rice University, TX
"Temples of the Secular State: Opera Designs in Early Republican Turkey"
Ayça Sancar, PhD Candidate in Architectural Theory, RWTH Aachen University, GR
 "Visibility and the Monumental in Mies van der Rohe"
Jessica Schouela, PhD Student in the History of Art, University of York, UK
"Just What Is It That Makes Tate Modern So Different, So Appealing? A Study of the Changing Function of Architecture"
Emily Sack, MA in Art History, Richmond, The American International University in London, UK
---
11:30 AM – 1:30 PM
LUNCH BREAK
---
1:30 – 3:30 PM
SESSION 2: DOCUMENTATION AND MONUMENTALITY'S DISSOLUTION
"The Necessity of Ruin: Monuments of Rupture and Redemption in Utopian Literature"
Nathaniel R. Walker, PhD in the History of Art and Architecture, Brown University
"Monumental Ephemera: The 1939 Smithsonian Gallery of Art Competition"
Zoë Samels, MA in the History of Art, Williams College
"Mainly for Photographic Purposes: Running Fence and, or as, Documentation"
D. Jacob Rabinowitz, PhD in Art History, Institute of Fine Arts at New York University
"Persistent Iconoclasm: Leninist Monument Culture and Its Documentation"
Julian Francolino, PhD Student in Visual Studies, University of California at Irvin
Sponsor:
National Endowment for the Arts, Association of Graduate Art Students, Georgia Museum of Art, Lamar Dodd School of Art