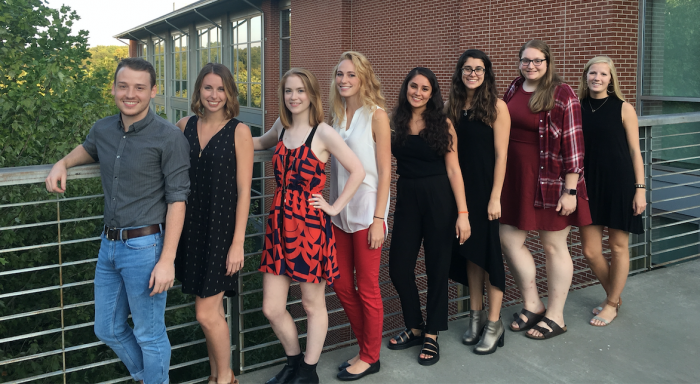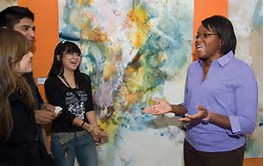 The Dodd Ambassadors are a select group of students dedicated to enhancing the image of and interest in the Lamar Dodd School of Art at the University of Georgia (UGA).  Ambassadors assist at School or University sponsored events and are available to speak on topics related to the Art school before groups, schools, clubs, assemblies, banquets or similar events.  Ambassadors also work in conjunction with the Advising office to recruit prospective students and with the Dodd development officer to promote student visibility to the Board of Visitors and Guests. 
Dodd Ambassadors are the Face of Lamar Dodd School of Art.  Our ambassadors are some of the brightest and best talent from all areas of art study here at Dodd.
Our Ambassadors can be found at every art exhibit openning or closing reception. They also support the UGA Spotlight on the Arts evenings here are Dodd.  Our Board of Visitors relys on their participation at receptions for donors and guests. 
Dodd Ambassadors are active in supporting at Dodd Award Presentations, Visiting Artist Lectures, Dodd Welcome Back Party, Dodd Graduation Reception, Career Days and More.  Our ambassadors are the key to prospective student recruitment and provide tours for these students as well as guided tours for visiting High Schools from around the nation.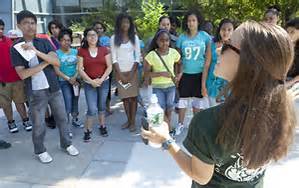 Find the guidlines for your letter of interest for application here. 
To View additional Ambassador responsibilites click on Dodd Ambassador Agreement
---
Current Dodd Ambassadors:
Catherine Freeman is a Drawing & Painting major and Fashion Merchandising minor, with a certificate in Personal and Organizational Leadership from Terry College of Business's Institute of Leadership Advancement. Catherine is also involved in CURE at UGA as their Director of Creative Design. She's dedicated many hours to the third-floor studios of Lamar Dodd, but in her many years there has found new loves of fabric, embroidery, and photography alongside her focus of drawing and painting. Her current body of work focuses on the landscapes of emotion and memory, aiming to create small fields of color and pattern to encapsulate the plane of one's mind at a given time. She is drawn to the correlation between synesthesia and the combative and harmonic nature of emotions, and her works capture a momentary glimpse of the catalyst between the two. Catherine is zealous to give back to the school that has, for the past five— that's right, five—years, taught her so much about creating art that matters.
Catherine Huff is a senior art history major and French minor. She has focused her undergraduate research in eighteenth and nineteenth century American and European painting. Catherine spent two years at Indiana University before transferring to UGA for its esteemed art program. As well as being a Dodd Ambassador, Catherine is an officer for the Art History Society, a docent at the Georgia Museum of Art, and an active member in the museum student association. She worked as a curatorial research intern in American art at the GMOA, where her exhibition Man's Canyons: New York City on Paper won "Student Project of the Year" from the Georgia Association of Museums and Galleries in early 2017. In her final year at UGA, she was awarded CURO assistantship funds to conduct independent research under the mentorship of Dr. Alisa Luxenberg. Her current research seeks to understand American art collecting trends in the nineteenth and twentieth century. Currently, she is the curatorial assistant in American art at the High Museum of Art in Atlanta, Georgia.
Caroline Corbitt is a third year from Valdosta, GA majoring in Graphic Design at the Lamar Dodd School of Art. Her love of art stems from her mother, an art teacher, who always pushed her to follow her dream of becoming an artist. She is also involved with other organizations on campus such as Greek Ambassadors, Designated Dawgs, and her sorority Kappa Kappa Gamma. 
As a Dodd Ambassador, she looks forward to aiding future students in their goal of making a career out of creativity and counts on refining her own knowledge and practice of design with the inspiring pupils in the Dodd Ambassadors. As head of External Affairs, feel free to email her with any information regarding the Arts at cvcorbitt95@gmail.com
Jessika Song is a junior Art History major and double minor in Studio Art & Theatre. She began UGA as a Biological Sciences major, but after discovering her passion for art, she decided to take her first art class at Dodd. Ever since, she has dedicated her time to exploring her artistic style and the various disciplines within the art realm. Her love for art history developed amidst this exploration for her artistic identity. After changing her major in the middle of freshman year, Jessika realized how important community is for growing artists and, now, strives to help incoming students feel welcome and supported. 
Lois Songster is a Senior Interdisciplinary Student at the Lamar Dodd. She created her own major to focus on Illustration by pulling classes from various art disciplines and English classes. She also works part time. She participates in not only the Dodd Ambassadors but also the Georgia Sculpture Collective. Her favorite medium is watercolor and paper-making and general mixing of products together. She hopes to someday own her own Studio collective and open it to wandering artists who need a temporary place to work. 
Bria Bowen is a second year from Norcross, GA. Her love of art started as a young kid loving to make scrapbooks and doodle on the sides of her homework. As a freshman in high school, she took her first art class in 2D design, and that is when she knew she was kind of good at this art thing and wanted to continue it through college. As soon as Bria took a tour of Lamar Dodd, walked the halls of the school, gasped at the galleries filled with everyone's amazing work, and breathed in the lovely smell of mineral spirits, she fell in love! Bria knew this is where she was meant to be. Now she is living the dream as a graphic design major, and is thrilled to represent the University of Georgia's Lamar Dodd School of art as an ambassador.  
Savannah Allen and is a fourth-year Graphic Design student from Augusta, Georgia. Growing up around the globe, she felt she had garnered innumerable experiences and inspiration that has undoubtedly molded her design style. Daughter to a soldier and a photographer, Savannah learned to understand the meaning and the artistic value of these experiences. Through the constant change of army life, and the stirring nature of her mother's homemade darkroom, she became drawn to art at a young age. As a designer, she aims to combine organic illustration with linear design to foster meaningful communication. As an ambassador, she hopes to provoke curiosity and growth for incoming students, encouraging and inspiring the sort of experiences she values so greatly.